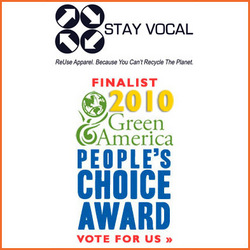 Chico, CA (PRWEB) September 21, 2010
The major focus of the "ReUse & Schmooze Tour" is to promote the SV brand and to become Green Business Of The Year, while incorporating some of Eaves' favorite things; touring, music, and coffee. Each night of the tour Eaves and DS will be at various coffee shops across the country setting up a SV merchandise booth and speaking to people about the benefits of reuse apparel.
Eaves will speak about his history of touring with bands, how he came to start a certified green reuse apparel brand, and how much of a role reusing plays in his life. Following Eaves, DS will perform an all acoustic set as well as speaking briefly about his involvement with SV, and how easily reusing can be a part of touring, specifically with band merchandise.
The tour debuts Thursday, September 23, 2010 in Berkeley, Calif. and ends in Bridgewater, Mass. on Thursday October 7, 2010. All of the tour dates and information regarding the ReUse & Schmooze Tour can be found at stayvocal.com
STAY VOCAL is a certified ReUse Apparel Brand that rescues t-shirts and gives them a second life with a whole new design. Their apparel line is made with both brand new t-shirts that were going to be destroyed, as well as pre-worn shirts that have been washed and treated, which allows them to offer a variety of unique items to their customers.
Indie/Folk Rock Singer/songwriter Roger Harvey's upbringing in various snowy cities across the country is the driving force behind his traveling soul and his musical identity known as Dandelion Snow. The releasing of two full-length albums and two splits over the past year and a half has given DS the opportunity to tour vigorously throughout the country.
###