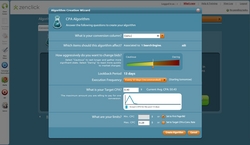 Our clients will benefit from the competitive advantage that Acquisio's algorithm functionality provides, and we'll be able to continue increasing their ROI without needing to increase the amount of time we spend managing their campaigns
Montreal, Canada and London, England (PRWEB) September 21, 2010
For years, agencies using bid management software to help manage their clients' pay-per-click (PPC) campaigns have set their software to review and alter bids after a certain amount of time has elapsed, whether that be "once weekly" or "every 2 days." The problem with these arbitrary date ranges is that the ad or keyword in question may not have received enough clicks or impressions at that point to be statistically significant—in other words, enough time may not have elapsed to give the marketer a true picture as to the conversions or clickthroughs the campaign or keyword is capable of. As a result, potentially high-performing keywords or campaigns may be erroneously labeled "duds", leading marketers to abandon lucrative messages and keywords and leaving money on the table.
Thankfully, the days of PPC decisions based on arbitrary time frames are coming to an end. Today at ad:tech London, performance marketing platform Acquisio will give attendees a sneak peek of the new functionality that will change the way agencies and marketers make bid management decisions. The latest version of Acquisio, which will be made public on September 24, 2010, includes more than a dozen new algorithms designed to help marketers automatically manage and adjust bids based on data gathered in a representative sample, ensuring that tweaks are made ONLY after a keyword or ad group has received enough data to make an informed decision.
"With its latest release, Acquisio becomes the only ad management platform that lets me set a change interval based on reaching a representative number of impressions, clicks, or conversions rather than based on some arbitrary time," said Martin Peron, Co-Founder of Bloom Search Marketing. "Our clients will benefit from the competitive advantage that Acquisio's algorithm functionality provides, and we'll be able to continue increasing their ROI without needing to increase the amount of time we spend managing their campaigns."
ALGORITHMS ADJUST BASED ON MARKETER'S RISK TOLERANCE
Acquisio's new algorithms automatically adjust in response to the amount of risk the marketer decides s/he is comfortable with. For example, the algorithms in place for a marketer who indicates a desire to be aggressive on bid changes will require a much smaller conversion sample than a marketer who indicates that he is conservative. By allowing marketers to set their risk tolerance for each client, Acquisio gives marketers the chance to understand their true cost per conversion and not a number generated from bid management decisions based on random dates rather than sample size.
"When it comes to successful PPC advertising, making decisions about a keyword or campaign after it has reached a certain sample size is a much more effective way to determine its success than by setting an arbitrary date," said Marc Poirier, co-founder and CMO at Acquisio. "Now in Acquisio, the software only makes changes when the algorithms detect that managed keywords and ad groups have reached the appropriate representative sample size, no matter whether it takes 5 days or 5 hours to reach that size. This means that all ad groups and keywords are given a fair shot at performing and that only those that truly don't deliver are adjusted."
ADJUST CHANGE INTERVALS BASED ON A VARIETY OF METRICS
Algorithms in Acquisio allow marketers to automatically manage and adjust bids based on thirteen different metrics, including cost per acquisition (CPA), return on advertising spend (ROAS), quality score (QS), target position, and more. Marketers can choose to work with a particular campaign or ad group, and can also make portfolio-wide adjustments. More information on the algorithms and how they work can be found online at http://www.acquisio.com/ppc-management-algorithms/.
ACQUISIO OFFERS INCREASED SPEED TO INTERNATIONAL CUSTOMERS
Also at ad:tech London, Acquisio announced that it has signed an agreement with CDNetworks to take advantage of its Application Acceleration technology. By deploying its industry-leading bid management platform on CDNetworks' optimized network, Acquisio customers from Australia to Asia and everywhere in between will enjoy faster bid management analysis and performance.
"Using CDNetworks Application Acceleration technology, we'll be able to improve the speed of Acquisio for all of our customers across the globe. We'll be able to reduce the page load time and get rid of the latencies and hiccups that tend to happen with online applications, which will likely make our international customers happier," noted Poirier.
ACQUISIO TO EXHIBIT AT STAND 285
The addition of algorithms to Acquisio is the culmination of a two-year project with the University of Montreal's Operations Research department and in-house mathematicians. The latest Acquisio upgrade, available September 24, 2010, is free for current clients. Acquisio will be showcasing its product functionality and enhanced application speed throughout the ad:tech London conference at stand 285.
ABOUT ACQUISIO
The world's leading developer of performance marketing solutions for agencies, Acquisio helps marketers buy, track, optimize, and report on media across all major search, social, and display networks. With more than $500MM in ad spend under its management, Acquisio is the multi-channel ad management solution preferred by advertising and marketing agencies. Acquisio's suite of solutions empowers over 300 interactive agencies around the world—including Bruce Clay, Yellow Pages Group, SEO Inc., aimClear, Page Zero, Find Me Faster, Leverage Marketing, and SEER Interactive—helping them increase productivity, efficiency and ROI.
The company is based in Montreal, Quebec with satellite offices in Seattle, Toronto, and Paris. For more information, visit http://www.acquisio.com.
###