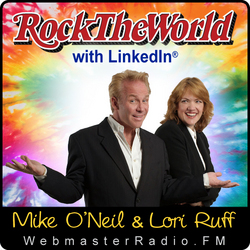 "We'll include helpful tips and interviews with interesting people – both industry insiders and business professionals that are doing things right.
Fort Lauderdale, FL (PRWEB) September 20, 2010
Two of the industry's foremost LinkedIn & Social Media authorities, Mike O'Neil & Lori Ruff have joined together to created a live weekly radio series, adapted from their popular Rock The World™ book series, which include "Rock The World with Your Online Presence" and their new release "Rock The World with Social Media". The program premieres Monday September 20th.
"We get questions every day from our connections and this will allow us to once again address the most frequent and most odd-ball things that come up every week to a wide audience." Ruff said. "We'll also include helpful tips and interviews with interesting people – both industry insiders and business professionals that are doing things right. In a word, the show ROCKS!"
Mike O'Neil is the Founder and President of the world's first Social Media and LinkedIn training company, Integrated Alliances. Lori Ruff serves as Chief Learning Officer at Integrated Alliances and is one of the Top Ten Best Connected Women on LinkedIn.
They co-authored most recently Rock The World with your Online Presence and Rock The World With Social Media "The Ultimate Social Media Guide for LinkedIn Users". Mike and Lori speak regularly at Social Media workshops, webinars, and speaking presentations across the country.
Mike and Lori will debut their premiere episode on September 20th with TA McCann, the CEO and founder of Seattle-based Gist, a service which provides a complete view of the contacts in a user's professional network by creating individual rich business profiles that includes news, status updates, and work details.
Listeners are able to interact with their questions and comments to the host and guests for each interview, as well as all live WebmasterRadio.FM programming, by:

Following us on Twitter @webmasterradio
Becoming a member of the WebmasterRadio.FM Facebook page or…
Log in to our live 24-hour real-time chatroom monitored by our show hosts at http://www.webmasterradio.fm/chat.
"RockTheWorld LinkedIn", airs every Monday at 7pm Eastern / 4pm Pacific on http://www.WebmasterRadio.FM. Episodes are archived on WebmasterRadio.FM, as well as on iTunes and other premier podcast portals.
About WebmasterRadio.FM .
WebmasterRadio.FM lifts the "veiled curtain" of the Internet, bringing the business community together through an interactive radio network. Its listeners are a global group, comprised of everyone from corporate executives and decision makers to small and mid-sized businesses and individual entrepreneurs. WebmasterRadio.FM's stellar line-up of radio programming includes "CoverStory" with Jiyan Wei of PRWeb, WebmasterRadio.FM's official newswire; "Market Edge" with W2/Racepoint Group Chairman Larry Weber; "SEM Synergy" with Search Engine Marketing Industry Leader Bruce Clay, "The Joel Comm Show" with New York Times bestselling author and serial entrepreneur Joel Comm and more. To tune into WebmasterRadio.FM's live content or check out the show lineup, please visit http://www.WebmasterRadio.FM.
Media Contact:
Brandy Shapiro-Babin
954-309-5578
###