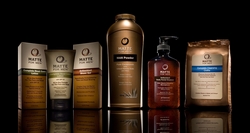 This inaugural Matte For Men Video Challenge will allow us to capitalize on the amazing amount of positive 'word of mouth' we have received
Marana, AZ (PRWEB) September 22, 2010
"We want everyone to have fun with this contest and draw on their creativity in developing something that helps Matte For Men get it's brand vision across. This inaugural Matte For Men Video Challenge will allow us to capitalize on the amazing amount of positive 'word of mouth' we have received" says Jacobs. "Since news of this contest has spread, we have gotten an incredible amount of feedback. We feel that it is due to the wide-open landscape of the contest, the fact that the winning video will be featured all around the internet, and that the prize is a year's supply of Matte For Men!"
Finalists will be chosen from the videos submitted and posted on the Matte For Men Facebook brand page. Fans will then have the opportunity to vote for their favourite video and one will then be chosen as the winner from the finalists. Entries are being accepted through March 31, 2011 with complete details and rules featured on both http://www.MatteForMen.com and the Matte For Men Facebook Fan Page. After that time, voting will open with the winner being announced in the early fall.
"This contest is a great way for our customers to help contribute creatively to the success we have enjoyed. We are also excited that our newest retailers, like Amazon, Beauty.com, AAFES, Harmony Pharmacies and The Ritz-Carlton Spa, have come on board in time to share in this contest's impact" concluded Jacobs.
For further information, photography or product samples please contact Steve Summers at mediarelatons(at)lescoja(dot)com
About Lescoja
Lescoja Corporation is a leader in developing and marketing innovative men's grooming products that address specific consumer needs in a straight-forward and effective manner. Their product line includes the acclaimed Matte For Men Complete Face and Head Care Lotion, as well as the award-winning Matte For Men Man Powder and Matte For Men Complete Cleansing Cloths. The Company is privately held and headquartered in Marana, Arizona.
###