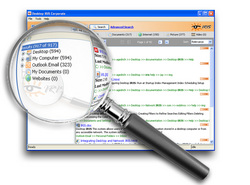 MobilVox is at the forefront of its industry as a technology innovator, and offering a state-of-the-art solution for enterprise searching
Reston, VA (PRWEB) September 22, 2010
MobilVox, Inc. announced today that KMWorld selected its Intelligent Retrieval Information System (IRIS) as a 2010 trend-setting product. IRIS applies cutting-edge unstructured text mining technologies, robust analytics, and advanced entity identification and processing to enable users to obtain accurate, reliable, and secure information. The complete system consists of Desktop IRIS and Network IRIS. It also provides users with the capability to perform searches in multiple languages.
"More than 600 products were assessed by the judging panel and all those selected clearly demonstrate identifiable technology breakthroughs," said Hugh McKellar, KMWorld editor-in-chief. "Undeniably, MobilVox is at the forefront of its industry as a technology innovator, and offering a state-of-the-art solution for enterprise searching."
"MobilVox is honored for IRIS to be named a KMWorld 2010 Trend-Setting Product," said Enrique Lenz, the firm's President and CEO. "IRIS provides executives, managers and employees of corporations, large and small businesses, government entities and others with an inexpensive state-of-the-art enterprise search solution to easily and quickly find information and actionable intelligence in desktop computers, networks, and websites. For example, the 'desktop' version of the system allows users to search Microsoft Office documents, Open Office files, Outlook e-mail and attachments, HTML, XML, zip, and many other file formats by querying words, terms and phrases with instantaneous results. The 'network' version enables users to set-up and index an unlimited number of information repositories and utilizes an intuitive web-based interface to add documents into binders and perform advanced text analytics."
The company website (http://www.mobilvox.com) provides more information on this system.
About KMWorld
KMWorld (http://www.kmworld.com) is the leading information provider serving the Knowledge Management systems market and covers the latest in Content, Document and Knowledge Management, informing more than 50,000 subscribers about the components and processes – and subsequent success stories – that together offer solutions for improving business performance. KMWorld is a publishing unit of Information Today, Inc. (http://www.infotoday.com).
###