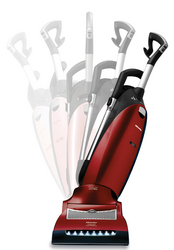 Ashburn, VA (Vocus) September 21, 2010
GermanVacuum.com a Miele exclusive vacuum dealer, is pleased to announce the arrival of the new Miele S-7 upright. The S-7 uprights have been priced at competitive levels to increase market share of Miele Vacuums in the US.
Redesigned and repriced for 2010, Miele upright vacuums are now available for under $500 from germanvacuum.com. Starting at $429, the Miele S7 Uprights have six different models in fun new colors. The new S-7 family consists of the JAZZ, TWIST, BOLERO, and TANGO. Each vacuum cleaner comes with an impressive 1800 Watts of suction power resulting in exceptional cleaning performance. Adjustable power levels on all models gives the S-7 the versatility it needs for all cleaning tasks. This flexibility allows for exceptional cleaning on a variety of surfaces including, deep pile carpets, hard floors, even upholstery and curtains. Miele vacuum cleaner testing consistently yields a residential lifespan of 20 years (1000 hours of use).
All vacuum purchases from Germanvacuum.com include free shipping within the United States. Customer service is available to answer any questions Monday-Saturday at (703) SUC-MORE (782-6673)
###