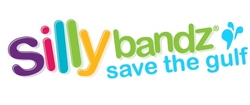 The oil leak may be stopped, but the work to save our coastal wildlife from the ongoing effects is barely underway. We've created these Silly Bandz to raise awareness
Toledo, OH (PRWEB) September 20, 2010
According to deepwaterhorizonresponse.com, the official site of Deepwater Horizon Unified Command 5,483 birds, 553 sea turtles, and dozens of other wildlife have died so far due the Deepwater Horizon disaster. At least 50+ million gallons of oil, five times the size of Exxon Valdez, is still lingering in the Gulf coast's waters, putting both people and wildlife at risk. So, what can you do to help?
BCP Imports LLC has announced the release of its Save the Gulf Silly Bandz (http://www.savethegulfbandz.com), a version of its popular kids' and adults' product, to help raise money for wildlife and communities affected by the Gulf oil spill disaster. A portion of every pack purchased will go directly to helping rescue the wildlife, rehabilitate our communities, and prevent further damage to our shore lines and animal nesting grounds. "The oil leak may be stopped, but the work to save our coastal wildlife from the ongoing effects is barely underway. We've created these Silly Bandz to raise awareness and for people to show others that indeed, the future of our Gulf is still on our minds," said Robert Croak, BCP's President. "These animals and families need our help. This isn't just a Gulf Coast problem, this is a national problem we should all pitch in together to fix." A Gulf coast company along with lists of kids had contacted Silly Bandz about this idea back in May, which sparked the production of what will be in stores very soon. The shapes will also debut "thermochromatic technology," creating different colors in various temperatures of water; a first in the bandz industry.
Supporting Organizations:
The Greater New Orleans Foundation (cited @ http://www.gnof.org) is one of the oldest and largest philanthropic organizations in the Louisiana region. Every day, the Foundation joins other foundations, nonprofit organizations, community leaders, and government officials to address the needs of the community and build a consensus for solutions. Their recent implementation for a Gulf Coast Oil Spill Fund will directly go to several branches such as:

Louisiana Bucket Brigade which helps test the air and water quality
The GNOF Oil Spill Grant which helps fishermen, fisheries, and families in critical need
The National Wildlife Federation (cited @ http://www.nwf.org) has been on the front lines responding to the wildlife crisis unfolding in the Gulf since the BP Oil Spill started on April 20. The Louisiana-based staff--already working on existing Coastal Louisiana restoration efforts before the spill--was deployed to help with the initial response. The NWF strongly believes it has an obligation to find out what is happening, share this information with the public and do everything it can to help wildlife survive this tragedy.
BCP Imports LLC's (http://www.sillybandz.com) branch, Silly Bandz, grew to one of the biggest trend toys in 2010, steamrolling the minds and hearts of millions. The company has set its path on forming Silly Bandz into a socially responsive brand, thus resulting in projects such as this Save The Gulf movement. BCP's goal in this is to publicize its compassion, support, and speaking out that this man made disaster is not out of sight nor mind, through. the form of millions wearing these special bracelets.
For more information and a live total of money raised please visit http://www.savethegulfbandz.com.
Press kit available at http://www.savethegulfbandz.com/presskit
###