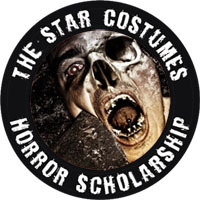 Horror movies are an important part of the American film tradition, and there are no other scholarships designed specifically to help students entering the horror industry.
Alpine, CA (PRWEB) September 21, 2010
Star Costumes just announced the creation of a new $1,000 scholarship to be awarded to a student studying to work in the horror film industry.
"For over thirty years, Star Costumes has been in the business of selling everything scary – from costumes to makeup and masks. And we're grateful to the creative geniuses in the horror industry who have provided years of fun-filled terror," explains Mike Cairl, Star Costumes founder and president. "We see this scholarship as our way to give back and help keep future generations of horror fans as terrified as we've been lucky enough to be."
"Horror films are an important part of the American film tradition, and there are no other scholarships available which are designed specifically for students entering the horror industry. By providing this scholarship, we hope to help the most promising and creative minds with resources which can be used to alleviate educational expenses and help launch their horror career."
"Costuming is a very cinema-focused industry -- the hot movies each year tends to determine the most popular costumes, and characters from the top horror flicks have always been a big seller for us. So it really benefits us as a company to encourage the creation of great horror movies," says Cairl.
Eligible students can be pursuing careers in a wide variety of specialties, including makeup artist, VFX/CGI artist, special effects artist, set designer, costume designer, film sound artist, lighting designer, postproduction specialist, screenwriter, film critic, cinematographer, or director.
To apply, students must be 18 years or older with a 3.0 GPA and currently studying full-time at an accredited undergraduate or graduate post-secondary institution. Applicants must fill out a short form and include an essay, "which will be judged on its creativity and passion for horror cinema," says Cairl. There is no fee to apply.
The deadline to submit scholarship applications is October 31st, 2010. The winner will be notified on November 5th, 2010. The winning student will need to provide relevant transcripts to verify GPA and enrollment, after which the scholarship award can be claimed right away. The application form can be found at http://www.starcostumes.com/horror-scholarship/ .
About Star Costumes:
Star Costumes has been in business since 1980 and online since 1997. With almost 30 years of experience in the Halloween costume industry, StarCostumes.com is dedicated to offering the largest selection of adult costumes and kids costumes for our customers at some of the most competitive prices on the web.
###