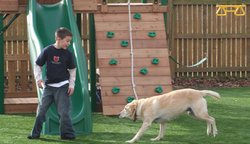 Once installed, artificial grass is permanently manicured and ready to use
Dalton, GA (Vocus) September 21, 2010
A record number of exhibitors descended upon the nations capital city for the annual American Society of Landscape Architects Show. They were thankfully met by a record number of attendees showing that America's love of beautiful landscapes has not diminished despite tougher times. Landscape architects are always looking for new and innovative ways to design and adorn property lay outs and the ASLA Show allows manufacturers to showcase new ideas and unique solutions. XGrass Inc., a supplier of artificial grass products in the U.S., Canada, and Mexico, was a first time exhibitor at this year's show and was blown away by the interest level for using artificial grass in a broad range of applications never really considered years ago. Artificial turf is not just for athletic fields anymore. Its going mainstream.
Landscape architects, business owners, and developers are finding that artificial grass products, like XGrassLawn, are an attractive fit for just about anywhere natural grass was a standard. Developers and property owners can have a pristine new lawn in a matter of days with out the watering in and care required of sod. Its similar to installing carpet; one day you have bare plywood, the next you have beautiful carpeting. With artificial grass, one day you have a muddy barren plot, the next a plush green landscape. Immediate gratification. immediate curb appeal. "Once installed, artificial grass is permanently manicured and ready to use" comments Chris Cote, XGrass Inc. VP of Sales and ASLA Show exhibitor. "For a company developing a commercial property or a traditional neighborhood development (TND), the entire project can be landscaped quickly, and the future tenants are rewarded with a neat and attractive landscape that looks great spring, summer, winter, and fall." As with many building materials that are now ultra low maintenance, home and business owners want the same from their landscape: great aesthetics and functionality with little or no time spent on maintenance.
Attendees inquired about all kinds of applications for artificial grass. The number one interest was roof top applications. XGrassLawn is perfect for this application because of how easily it drains thanks to its permeable Duraflow backing. Other popular inquiries were about applications for playgrounds and commercial properties. XGrassPlay has been installed on hundreds of playgrounds across the country and the interest for commercial properties continues to grow as property owners are beginning to realize the stunning aesthetics and low maintenance. Water conservation and recyclability was also on the minds of architects. Xgrass products are made with a recyclable Duraflow backing making it an excellent green choice from a materials perspective. Obviously artificial grass inherently meets the goals of water conservation because it requires no water; therefor no sprinkler systems and lower maintenance costs too. Artificial grass, along with use of native drought resistant foliage and other non-watered ground covers, will grow in popularity as fresh water for non-critical uses becomes frowned upon or restricted. XGrass looks forward to meeting the challenges and demands of the landscaping community" commented Cote, "the show was a resounding success."
XGrass Inc. services the United States and Canada through their distribution network and independent dealers. Available brands including XGrassLawn, XGrassPlay, XGrassPet, XGrassSport, and XGrassGolf. The brand variety helps create categories that fit the unlimited applications that XGrass products can fit. Ranging from playground surfacing to putting greens to dog parks and private residences. The world is ever changing and it will require increasingly versatile product solutions to meet the needs of our society. Synthetic grass is one of those products.
###