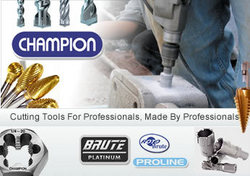 Learning about Champion Cutting Tools & their dedication to precision manufacturing, research & development, we at Herman's realized it was time to extend our offerings and further establish ourselves as a premium resource for cutting tools- Jim Palese
Brooklyn, NY (PRWEB) September 22, 2010
HermansCentral.com is proud to announce the addition of the Champion Cutting Tool products to its line of professional cutting tools. Champion's products include; twist drills, end mills, taps, dies, cutters, power tools, annular cutters, reamers, masonry tools, as well as complete hole cutting systems - all engineered for performance and built with the industrial & professional users in mind.
The addition of Champion Cutting Tools, expands the quality products offered at HermansCentral.com by manufacturers such as M.K. Morse, Milwaukee, Relton and Lenox, just to name a few. Its addition to our cutting tool offerings is a smart next step in offering top notch, precision cutting tool products further separating us from other stores just offering "drill bits". With new detailed product information & resources like action videos, it's no wonder that HermansCentral.com has already received great feedback and reception of the Champion Cutting Tool line.
To view our Champion Cutting Tool line of products visit our website at http://www.HemansCentral.com, or call us one of our cutting tool specialists at 800-273-4376 .
Would you like to understand more about the Champion Cutting Tools Product Line?
Champion Cutting Tools has 4 main industrial product lines all with a very specific job to do. They include Champion, BrutePlatinum, Proline and Roto Brute and each of these have products being added at a steady pace.
The Champion Line are Industrial Twist Drill Bits, not to be confused with the super store common "drill bits". Industrial twist drills are precision cutting tools, manufactured to exacting standards for the express purpose of reducing cost per hole. This line of Champion products includes industrial drill bits of many types including: jobber length, extra length, short length, taper, multi-step bits, locksmith bits, double end bits, corrugated construction bits, carbide & carbide tipped, S&D drill bits and more.
Champion's BrutePlatinum Line us heavy duty cutting tools at it's best. The BrutePlatinum brand includes heavy duty jobber drills, mechanics length drills, taps, countersinks, end mills and reamers. Champion has combined the quality raw materials, geometries and surface treatments providing consistent high quality for predictable and repeatable high performance.
Champion's RotoBrute System delivers the quickest and easiest hole making solution for making larger diameter holes in structural steel and beams and features a complete line of magnetic drill presses and precision engineered annular cutters.
Champion's ProLine Series are industrial workhorses including masonry hammer bits, rotary masonry drills, tapcon drills and electric hammer chisels for high performance drilling and masonry removal which are compatible with all major brands of power tools.
###