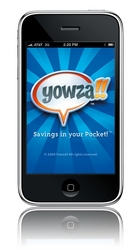 Lane Bryant is a strong, forward-thinking brand, and we are thrilled to announce them as our 300th partner in conjunction with National Coupon Month
Los Angeles, CA (PRWEB) September 21, 2010
Lane Bryant, the nation's leading women's specialty full figured apparel retailer, has become the 300th merchant to take advantage of Yowza!!'s simple, location-based mobile coupon application. With Yowza!! (http://www.getyowza.com), consumers can search for deals based on their current location or by zip code, select the coupon, and present it at check-out to be redeemed directly from the mobile device.
"We know our customers will love Yowza!! to save on their favorite fashion with instant offers like the current $25 off $75 promotion," said Brian Woolf, President of Lane Bryant.
More than five million consumers using Yowza!! mobile coupons on the iPhone or iPod touch – as well as on Blackberry, Android or Palm Pre via the free WHERE application – can now save money and take advantage of great offers at more than 740 Lane Bryant locations nationwide.
"Lane Bryant is a strong, forward-thinking brand, and we are thrilled to announce them as our 300th partner in conjunction with National Coupon Month," said Greg Grunberg, co-founder of Yowza!! "One of the things that makes Yowza!! unique for both national and local businesses is that there is no need for them to install any new technology in their stores or restaurants. Our free mobile coupons are as easy to use – if not simpler – than clipping coupons from the Sunday paper. Yowza!! consumers can access savings whenever and wherever they are, without being forced to play games, print out emails or check text messages; and our retailers don't have to worry about shoppers collecting virtual currency that can then be spent elsewhere."
Yowza!! helps consumers save money as they shop, with coupons that are with them all the time. Users – who are 49.2 percent male and 50.8 percent female, with an average age of 35 – have to date saved over $5 million redeeming mobile coupons at 15,000+ locations nationwide. According to recent research from Borrell Associates, mobile coupon spending is expected to grow to $6.52 billion in the next four years.
About Lane Bryant
Lane Bryant is the nation's leading women's specialty full figured apparel retailer, providing stylish, high-quality fashion in sizes 14-28. The Lane Bryant collection includes a wide selection of career to casual apparel as well as accessories, hosiery and Cacique intimate apparel. Lane Bryant and Cacique fashions are available nationwide at its nearly 750 Lane Bryant stores, 107 Lane Bryant Outlet stores, and at lanebryant.com and cacique.com. Lane Bryant is owned and operated by Charming Shoppes, Inc. Please visit lanebryant.com for store locations and the latest fashion trend information.
About Yowza!!
Launched in June 2009, Yowza!! – Savings in Your Pocket™ – is a free and innovative mobile couponing application designed to save consumers money while driving business to 300 retail and restaurant businesses, in over 15,000 locations nationwide. With over five million users – via both the iPhone and iPod touch, as well as on Blackberry, Palm Pre and Android devices through Yowza!!'s partnership with WHERE – Yowza!! provides consumers with deals and discounts, and gives businesses the ability to monitor performance on an up-to-the-minute basis. Yowza!! was founded by television and film writer/producer/actor Greg Grunberg (from NBC's Love Bites, as well as hit dramas, Heroes, Alias and Felicity) and technology entrepreneur August Trometer. Unlike traditional forms of couponing such as newspaper ads and insertions, the paperless Yowza!! offers are inexpensive to implement, environmentally-friendly, can be updated instantly, and can be targeted per region or particular store location. For more information, visit http://www.getyowza.com or http://www.twitter.com/yowza.
(Press note: artwork available on request.)
###