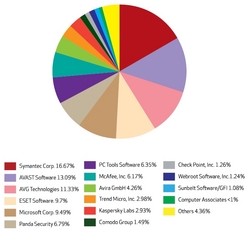 San Francisco, CA (PRWEB) September 22, 2010
OPSWAT, Inc., the leading provider of integration technologies to software developers and vendors whose products are deployed in over 50 million endpoints, recently completed an update to their groundbreaking June 2010 Worldwide Antivirus Market Share report. In this edition, they have focused on the North American market and provided a comparison from the June data to show current market share trends. A paid version of this report will also be available, including additional market share data and comparisons for South America, Europe and Asia.
OPSWAT has also issued its first report covering the usage of disk encryption applications. This examination contains unique data, including information on Microsoft BitLocker deployments and the actual percentage of systems which BitLocker is actively encrypting when installed.
Drawing from the research power of two of the company's diagnostic utilities that incorporate the OESIS Framework, OPSWAT analyzed data from tens of thousands of endpoint users who volunteered to report back their system information.
Antivirus Report
The research reveals that the top 10 Windows antivirus applications by vendor for the North American market are as follows:

Symantec Corp. 16.67%
AVAST Software 13.09%
AVG Technologies 11.33%
ESET Software 9.7%
Microsoft Corp. 9.49%
Panda Security 6.79%
PC Tools Software 6.35%
McAfee, Inc. 6.17%
Avira GmbH 4.26%
Trend Micro, Inc. 2.98%
Notable findings from the antivirus report include:

North America shows a dramatic shift from the other continents studied in that it is the only region to have applications from a "paid" provider leading in market share. Their hypothesis for this is due to Symantec's Norton product line often coming pre-installed free on new consumer PCs, in addition to their use of rebate and "freebate" promotions. Their list of OEM partners is extensive and includes most of the leading providers of PCs and notebooks, giving them a significant advantage in distribution of their products.
North America shows that even though Symantec is controlling the market share with their distribution strategies, free antivirus software vendors still command a sizable portion of the market more in line with findings from other continents.
Two application vendors appear only in the data for the North American market: GFI (formerly Sunbelt Software) and CA (Computer Associates).
For the complete list of market share leaders found, including a comparison of data between June 2010 and September 2010, please visit http://www.oesisok.com/news-resources/reports/north-america-antivirus-market-share-report%202010
Please note that this version only contains data for North America. A full version of this report is available for purchase which includes the following additional information:
Antivirus and operating system data for South America, Europe and Asia.
Further detailed antivirus and operating system data for the United States, Germany and China.
A comparison between the September 2010 and June 2010 data for each continent.
To purchase, please contact marketing(at)opswat(dot)com.
Disk Encryption Report
The findings show that end user adoption of hard disk encryption technologies aren't nearly as widespread as the use of antivirus, antispyware or firewall products. Even when these hard disk encryption features are included with a Windows OS, they remain unused for the most part. In future reports we will be tracking the deployment and adoption trends of hard disk encryption to show how these trends may be changing. The top five hard disk encryption application vendors detected during OPSWAT's study were as follows:
TrueCrypt
DigitalPersona
Sophos / Utimaco
Microsoft
Symantec / PGP / GuardianEdge
For specific data on disk encryption application usage, please visit the following page to view the full report: http://www.oesisok.com/news-resources/reports/disk-encryption-usage-report-september-2010
OPSWAT will be continuing to release more reports on the market share for endpoint security products such as personal firewalls, backup clients and device access control applications in the future. Application vendors looking to add their applications to the OESIS Framework are invited to partner with OPSWAT through the free OESIS OK Certification Program.
About OPSWAT
Founded in 2002, OPSWAT provides software engineers and IT pros with development tools and data services to power manageability and security solutions. OPSWAT, Inc. created OESIS OK, a free, industry-wide certification program that verifies the interoperability of endpoint security applications with products from market-leading technology vendors. The free "Am I OESIS OK?" utility hosted at http://www.oesisok.com enables end users to assess the interoperability and quality level of their applications.
###