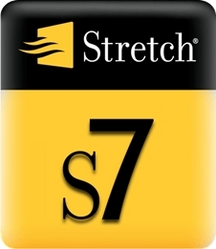 "Using the Stretch H.264 High Profile CODEC, we can deliver the surveillance industry's best video quality at very low bitrates.
Sunnyvale, CA (PRWEB) September 21, 2010
Stretch Inc., the pioneer and leader in software configurable processors, today announced a new series of OEM boards and reference designs featuring its recently announced S7000 family of software configurable processors. The new designs are available as production-ready OEM products, as well as fully-featured reference designs that can be used to speed the development of video surveillance products. The new series includes reference designs for standalone hybrid DVRs, PCIe add-in cards, and video surveillance cameras. Stretch has employed the scalability of its revolutionary S7000 processor family to build a broad portfolio that spans resolutions from standard definition up to 1080p60 and provides channel densities ranging from 8 to 32 channels of video on a single add-in card.
"These reference designs showcase the performance and flexibility of our S7000 devices," said Craig Lytle, Stretch president and CEO. "Using the Stretch H.264 High Profile CODEC, we can deliver the surveillance industry's best video quality at very low bitrates. This slashes networking and storage costs for surveillance systems and significantly increases the length of time captured video can be retained."
S7000 Powered Cameras – Single-Chip 1080p60 Performance
Stretch has developed a programmable, wide-dynamic range Image Signal Processing (ISP) software solution that runs on its S7000 devices, eliminating the need for a dedicated ISP co-processor. This ISP software, combined with the Stretch H.264 High Profile encoder software, ensures outstanding video quality with the lowest possible bit rate for the Stretch IP camera reference designs. Stretch offers three camera options: a 1080p60 IP camera design with switchable CVBS or HDcctv spot outputs, a low-cost 1080p30 IP camera, and an HDcctv camera reference design.
Don MacMillan, Stretch vice president of software engineering said, "The integrated ARM processor in the S7000 family of devices allows Stretch to provide both ONVIF and PSIA support running on Linux, allowing rapid development of standards-compliant network cameras."
Standalone Hybrid DVRs – Support for ANY IP Camera
Modern video surveillance systems can have a combination of traditional analog CCTV cameras, HDcctv cameras, and IP network cameras, which could use a variety of resolutions, frame rates, and encoding options. Because the S7000 devices are software configurable, they can decode any current or future IP camera bitstream through software modifications. This makes them the ideal, future-proof choice for Hybrid DVR applications. The integrated ARM processor removes the need for an external host processor and lowers the bill-of-material costs for standalone DVRs. Stretch offers a variety of standalone hybrid DVR OEM boards and reference designs in 8- and 16-channel configurations, and supporting ONVIF, PSIA, and HDcctv standards.
PCI Express Add-in Cards – Unprecedented Channel Density and Cost Savings
Stretch offers the industry's most complete portfolio of PCI Express add-in cards. The new VRC7000 series of PCI Express add-in cards features several industry firsts. The channel density of the S7000 family enables the world's first low-profile, 16-channel H.264 multi-stream encoding card. Low-profile cards reduce overall card costs and enable unprecedented channel density for 2U rack-mounted systems. Additionally, the VRC7000 series features Stretch's exclusive External Array Interface Module (eAIM) technology. This high speed serial connectivity transmits compressed or raw video data directly between cards, augmenting the bandwidth provided by PCI Express. In this way, PC-based DVR manufacturers can use lower cost CPU/Chipset combinations, saving $100s in overall system costs. Offered in 8- to 32-channel configurations, including HDcctv options, VRC7000 series cards enable the highest channel density and lowest cost. Stretch also offers a range of decode and display cards that can decode any IP camera stream. Display options include traditional CVBS, HDMI, and HDcctv outputs.
All Stretch S7000-based board products are available as production-ready OEM units sold in multiple unit packaging, as evaluation kits, and as fully-featured reference design kits. Stretch will be demonstrating these new products at Security Essen, October 5-8, booth number GA147, ASIS October 12-14, booth number 3046, and Security China Expo, November 2-5, booth number 1A023-4. For more information on Stretch S7000 reference designs contact sales@stretchinc.com or visit the Stretch Website at http://www.stretchinc.com.
About Stretch
Stretch Inc. is the world leader in software configurable processors, the first to embed programmable logic within the processor. Using familiar C/C++ programming tools, system developers automatically configure Stretch's off-the-shelf processors to achieve extraordinary performance, easy and rapid development, significant cost savings, and flexibility to address diverse markets and changing application needs. Stretch devices are used in video processing, machine vision and wireless applications worldwide. For more information, visit http://www.stretchinc.com.
Stretch and the Stretch logo are registered trademarks of Stretch Inc.
###