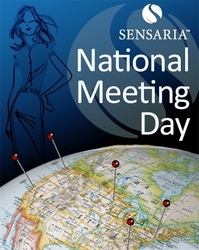 "This day re-energizes our current Representatives, while also offering valuable information for those who want to learn more about starting a home-based business."
Shelton, WA (PRWEB) September 22, 2010
In order to meet the needs of a rapidly expanding Representative base, Sensaria has announced a National Meeting Day on October 2, 2010 in cities across the United States.
As Sensaria, a leading naturally-based skin and bodycare company, continues to grow its national presence, National Meeting Day offers an opportunity for both Independent Sensaria Representatives and the interested public to come together for a day of information, training and product demos in several locations across the country.
"National Meeting Day is not only a wonderful opportunity for Independent Representatives to get together and help grow their businesses," said company President Kathy Bintz-Fertitta, "it's an opportunity for those interested in starting their own home based businesses to learn more."
Hundreds of Sensaria Independent Representatives across the US are expected to participate in this event, which will be held simultaneously in Bremerton, WA, Maple Grove MN, Edison, NJ, Satellite Beach, FL and Anaheim, CA.
"I'm really excited about hosting a Sensaria event in my town, close to my friends and family," says Lisa Carmichael, an Independent Representative in Eagan, MN and the host of National Meeting Day events there. "I can show people the wonderful products we offer, and hopefully get more smart, entrepreneurial women involved in this business."
Those interested in participating in National Meeting Day should contact Sensaria's Customer Service by phone at 800-555-9913 or by e-mail at cs@sensaria.com
All spa-quality Sensaria products are naturally-based, an affordable luxury and the smart choice for a healthy home.
Sensaria is the premier direct seller of naturally-based skin and body care products. The company partners with thousands of independent representatives throughout the U.S. who promote nurturing rituals and individual beauty at in-home spa parties. Sensaria partner representatives enjoy new opportunities for financial independence, personal growth and recognition from the company and their peers. http://www.sensaria.com. Sensaria is a proud member of the Direct Selling Association (http://www.dsa.org).
###