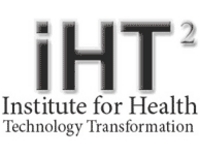 Strategies for Healthcare IT: Effective Management of Data
New York, NY (Vocus) September 21, 2010
The Institute for Health Technology Transformation announced today a webinar entitled "Strategies for Healthcare IT: Effective Management of Data," is scheduled to take place today September 21, 2010 at 1:00pm est.
The webinar will feature insights from Todd Rowland MD, Executive Director, HealthLINC HIE, Merritt Beaver, VP Applications Development, Metric ID, and Peter Fuller, VP of Marketing, Scale Computing.
The panelists will discuss best practices for implementing a successful information management plan including: how to design a system that makes information sharing and workflow easily accessible between departments and providers, and strategies to ensure information is reliably retained and meets mandated data retention and requirements.
Those interested in registering for this very timely and complimentary webinar can register by visiting https://www2.gotomeeting.com/register/938629242.
In addition, a recording of the webinar will be hosted beginning September 22, 2010 at http://www.ihealthtran.com/webinars.html.
The panelists will also share the benefit in sharing and accessing best practices amongst other healthcare IT professionals and suggestions on way to do so, and how to choose a storage solution that provides you with control, convenience, reliability, flexibility, and at a price point you can afford.
About Scale Computing
Scale Computing is a developer and manufacturer of complete, end-to-end midmarket clustered storage solutions. Based on Scale's Intelligent Clustered Storage™ (ICS) technology, Scale's storage portfolio aims to reduce costs while increasing control, as well as make storage management more convenient for IT administrators. The Starter Cluster line of products provides enterprise-class, truly clustered storage features at a fraction of the price of comparable solutions. IT managers are able to build out storage clusters, starting with just 1.5 terabytes up to the multiple petabyte range on a single file system using commodity hardware. One hundred percent channel, Scale's Generation 3.0 storage solution is protocol and density agnostic. Based in Indianapolis, IN, Scale Computing was named one of Forbes' Most Promising Companies in 2009. For more information, visit http://www.scalecomputing.com.
About the Institute for Health Technology Transformation
The Institute for Health Technology Transformation is the leading organization committed to bringing together private and public sector leaders fostering the growth and meaningful use of technology across the healthcare industry. Through collaborative efforts the Institute provides programs that drive innovation, educate, and provide a critical understanding of how technology applications, solutions and devices can improve the quality, safety and efficiency of healthcare.
http://www.ihealthtran.com.
# # #