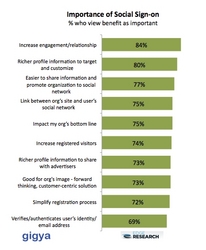 Palo Alto, CA (PRWEB) September 21, 2010
According to new survey results released today by Gigya (http://www.gigya.com) and Edge Research, leading online businesses have big plans for social sign-on, the ability to register on a website using an existing social identity. The report, "The Value of Social Sign-On and the Registered User," examines the importance of registered users and the benefits of social sign-on for both retailers and publishers on the web.
Two thirds of both publishers and retailers surveyed say that registered users are measurably more valuable than those who have not registered, but that their organizations are working harder than ever to drive registrations by minimizing required fields or by running costly promotions.
To overcome this challenge, businesses are turning to social sign-on. Executives surveyed believe social sign-on benefits include improved targeting, positive buzz, increased loyalty and ultimately increased revenue. The vast majority also believe these benefits are both important and achievable.
The benefits cited as most important include:

Loyalty: the ability to engage users and build relationships was the benefit deemed important by the largest percentage of online executives (84%).
Targeting: 80% of executives cited applying rich profile information to target and customize the site experience.
Word of Mouth: 77% say social sign-on makes it easier for customers to share information and promote the organization to their social network.
Revenue: 75% see social sign-on impacting their organization's bottom line.
"These findings support our clients' experience with social sign-on – that increasing registrations is just one of many business benefits," said David A. Yovanno, CEO of Gigya. "Social sign-on also provides the foundation for sharing and community features, enabling businesses to drive more referral traffic and time spent and take full advantage of the connection between their site and the social networks."
The research, conducted in July and August 2010, included both in-depth interviews and a survey of 100 product and marketing executives employed by publishers with at least 100K monthly page views or retailers with annual online revenue of at least $10M.
For more information and to download the full report visit: http://info.gigya.com/MR-SSO.html
About Gigya
Gigya is a leading social optimization platform for online business, enabling websites to connect seamlessly to the most popular social networks including Facebook, Twitter, Yahoo!, Google and LinkedIn. Gigya's software-as-a-service technology enables customers to provide social sign-on, sharing and community features to drive increased registrations, traffic and time spent on their websites. In addition, Gigya provides plugins, analytics, best practices, consulting and customer support to ensure clients optimize the social performance of their websites. Supporting more than 250 million users each month, Gigya's technology is the choice of global leaders including CBS, Fox Sports, Intuit, The Coca-Cola Company, The Home Depot, and Turner Networks.
###