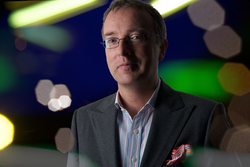 Today's man is more fashion aware than ever before and I strive to create suits and accessories that are distinctive and add whimsical flair to their personal style- Simon Carter
New York, NY (PRWEB) September 22, 2010
Simon Carter, the London based designer takes over Tip Top Tailors' Yorkdale store in Toronto, Ontario for celebrating the launch of Simon Carter Carnaby Street. Available in 42 Tip Top Tailors locations across Canada, Simon Carter rocks the Maple leaf nation in conjunction with the 50th Anniversary of Carnaby Street in London. Using iconic British elements during the celebrity attended gala, Invited VIP guests and Canadian press will be treated to London Chic fashions and themes.
Occurring on the heels of Toronto's International Film Festival Simon Carter plans full days of appearances and interviews with Canadian lifestyle influencers and the crème de la crème of Canada's fashion industry. Serving as master of ceremonies for the launch event is Canadian fashion celebrity and television personality David Clemmer. Clemmer, who can be seen Internationally and on Canadian hit TV shows Style by Jury, Diamond in the Buff, Entertainment Tonight, Canada AM, Star TV, Styleography and Kidz For It, provides a great complement to Simon Carter's celebrity following in American markets.
To kick off the launch celebrations Simon Carter will be interviewed by Marilyn Denis, Canada's most-loved woman of daytime television. This interview will be live on the Roger, Darren and Marilyn Morning show, CHUM FM radio.
With over 120 VIP and industry guests attending, the Canadian media and bloggers have been clamoring to be part of the action which includes interviews from inside a classic Hackney carriage or British black cabs. Adding to the imported British themes is a double decked bus transporting media guests from Dundas Square to Tip Top Tailors' Yorkdale store . Mike Chault and Acey Rowe of Proud FM scooped up a coveted time slot for an On -Air interview with Simon Carter just before guest start arriving. Citytv's CityLine and Global Tv's Entertainment Tonight Canada will be onsite filming their fashion segments. Reporter and professional tweeter , Graeme O'Neil, will writing and tweeting live from the party at OnTheGOinTO. com
The fashion fabulous scheduled to attend the launch event include Designer, Jessica Biffi, Designer Deborah French, Men of Style and host of Entertainment Tonight Canada, Rick Campanelli, Andrew Kraulis and Jean-Charles Dupoire, Valerie Strand from the British Consul General office, Visual Designer Bert Deveau, and Bob Harris the founder of Metro News.
"Simon Carter Carnaby Street is a quintessential brand for men between 22 to 38 years-of-age who have their own sense of style and want a quality, modern business look at an excellent price." says Tim Danser, VP of Bagir International, which represents Simon Carter in North America.
Simons Carter's appeal among celebrities includes Canadian Hockey legend Glenn Anderson, Grammy Award winner Jason Mraz, and Nominees, Alice In Chains, and Dennis Keene. HBO's Entourage star Adrian Grenier, Josh Sussman, Edin Gali, Crispin Glover, Russel Wetanson, Mike Inez, and Henry Ian Cusick, from ABC's Lost, choose Simon Carter's London Chic style for red carpet appearances. Carters's These A-listed fans are in good company with other international celebrities such as Will and Jada Pinkett Smith, Robert Downey Jr., Jonathan Ross, Laurence Llewelyn-Bowen, members of Duran Duran, the West Ham United football team, Paul Raffin the former CEO of Limited, Clint Eastwood's discovered a cappella band Overtone, and Melissa Gonzalez, the founder of RS Pop.
Designed with the fashion-forward man about town in mind, the Carnaby Street Collection carries the distinctive hallmarks of Simon Carter's renowned design esthetics – excellent quality, smart and contemporary tailoring accented with his characteristic touch of British wit. Fine wool Suits, which are the mainstay of the Collection, feature a modern, slender silhouette. Flamboyant interiors along with bright, tonal paisley shirts and co-ordinating silk ties add shots of colour against the Collection's neutral colour palette of grey, black or navy. The Carnaby Collection offered in Tip Top Tailors will retail for just under $500 and sporty garments going for under $125.
"Today's man is more fashion aware than ever before and I strive to create suits and accessories that are distinctive and add whimsical flair to their personal style," says Simon Carter. "I'm delighted to be able to expand my presence in Canada through this partnership with Grafton Fraser which allows the Carnaby Street Collection to be available exclusively at Tip Top Tailors."
Simon Carter became available in Tip Top Tailor stores on August 30th. Working closely with Grafton, the parent company of Tip Top Tailors and Jaytex of Canada, is Bagir International the exclusive license holder of Simon Carter apparel in North America.
About Simon Carter:
Simon Carter first began designing avant-garde accessories for men in 1985 on London's hip The King's Road. His success soon led to the development of the Simon Carter brand which encompasses a full range of accessories including cufflinks, sunglasses and watches. They are sold in 35 countries. Crowned the 'King of Cufflinks' by the British press, Simon Carter's cufflink designs continue to lead the market today with more than 300,000 cufflinks sold annually. His foray into menswear apparel began in 2002 and today it is carried by leading retailers such as House of Fraser, Moss Bros., Fenwick's, Liberty (UK), Brown Thomas (Ireland), David Jones (Australia), CK Tang (Singapore) and now Tip Top Tailors in Canada.
About Bagir
Bagir is an exceptional designer and manufacturer of men's fashion with innovation and technology. A triad of excellence receiving international awards such as The Queens Award for Innovation, and Israeli Ministry of Industry, Trade and Labor Award, Bagir is one of Europe's largest suppliers of commercial men suiting. In addition to Simon Carter and M&S, Bagir provides tailored suits in Europe for fashion giants such as Kenneth Cole, Next, Patrick Cox, Moss Brothers, Balmain, Burton, Belissimo and has its sights on the US market. Bagir is a leader and multiple patent holders in textile innovations, and designs. With technology innovation as a building block Bagir continues to be a juggernaught by turning their focus wholeheartedly to fashion and design. With their London Design Center, Bagir continues being the leader of commercial fashion by leveraging their expertise of UK fashion and their collection archives to create fashion forward designs for all their global markets.
To learn more about Bagir and Simon Carter contact:
Tim Danser
VP of Marketing
Bagir International
499 Fashion Ave
New York, NY 10018
212.560.9650
timd(at)bagirusa(dot)com
###