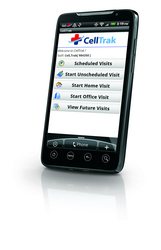 Visit CellTrak Technologies at Booth #1313 at the 29th Annual National Association of Homecare & Hospice (NAHC) Meeting & Exposition which will be held in Dallas, TX October 2-6, 2010.
Schaumburg, IL (PRWEB) September 21, 2010
CellTrak Technologies announced today that it has released its latest version of its award winning Home Health Point-of-Care and Administration System. The latest version builds upon the current CellTrak features and includes major new capabilities in mHealth technologies for the homecare industry.
"CellTrak is pleased to release our latest technology platform to the marketplace. This release builds upon our industry leading mobile healthcare solutions for improving care at the point-of-care. Additional application devices, improved access to real-time visit data and deeper integration with leading technology providers helps further improve compliance, provide accurate visit times and mileage, provide field staff proof of visit and allow agencies to enforce common policies," shared Michael K. Wons, President and CEO of CellTrak Technologies, Inc.
Anytime, anywhere and any device improves care at the point-of-care
Mobile devices and smartphones continue to improve overall user experience and capabilities at the edge of the network. CellTrak is pleased to announce new features for its mobile application including improved integrated GPS and Geo-fencing capabilities and additional functionality in its care plan and assessment applications. In addition CellTrak is pleased to announce that its new application is certified on Android, BlackBerry, IDEN/Flip Phone and Windows Mobile devices running on major carrier networks.
Hybrid Visit Manager Portal empowers Homecare Administrators
The CellTrak visit manager and administrator portal continues to improve with the addition of several new features. This includes staff and patient "nearest available" dynamic mapping features, alert consolidation capabilities, dynamic mileage variance features, the ability to add non-patient visits via the portal and intelligent error-capture and messaging. In addition CellTrak now supports multiple visit systems including interactive voice response (IVR) and GPS via an integrated visit manager portal. One portal is all you need to manage all of the visits for an agency.
Integration with leading clinical systems reduces paperwork and improves compliance
CellTrak is designed to work with commercial 3rd Party home health software applications as well as proprietary software. With a certified CellTrak data exchange, home health agencies are able to exploit the unique features of CellTrak point-of-care devices. CellTrak provides data import/export capabilities that allows the software application to send patient, scheduling and care plans to CellTrak and allows CellTrak to return completed electronic visit records. This includes features that leverage the strength of industry standard XML/web services to securely integrate with clinical system providers/partners. This includes Allscripts, Arrow, Cerner, Consolo, Delta, HealthCareFirst / Lewis, Procura and Suncoast Solutions.
Steve Wegner VP and CTO of CellTrak shared, "Our latest release of the CellTrak platform encapsulates some of the best ideas and feedback from both customers and partners. This includes exciting new or improved features such as GPS verification of the location of the event, a redesigned mapping experience, new mobile devices with greater capabilities and an enhanced end-to-end visit manager that provides many of the leading product features of CellTrak to augment more traditional systems such as IVR."
CellTrak University is now available
Improved training, access to the latest information and establishing an interactive knowledgebase for the industry; CellTrak is pleased to announce the successful launch of CellTrak University (CTU). CellTrak University, powered by Carosh Media, includes interactive training materials and the latest best-practices around the use of CellTrak by a homecare agency.
Accessory Ordering Site is making a difference
CellTrak is pleased to announce that the new CellTrak Accessory Ordering Site (CAOS) powered by Vision Wireless is now in use in homecare agencies across the country. CAOS offers 24 hour access and preferred pricing to CellTrak customers who need accessories such as car chargers, spare batteries, and carrying cases for their mobile application devices.
Visit CellTrak Technologies at Booth #1313 at the 29th Annual National Association of Homecare & Hospice (NAHC) Meeting & Exposition which will be held in Dallas, TX October 2-6, 2010.
About CellTrak Technologies:
Founded in 2006, CellTrak Technologies, Inc. is leading provider of integrated mobile solutions for the home healthcare, hospice, homecare and private duty markets. Our award winning* patent pending software-as-a-service solutions run on GPS-enabled mobile devices via a homecare technology platform which automates workflow. Data is transmitted wirelessly to an internet site making the data available real time and secure instantaneous integration is provided to the back-end clinical systems and the payer networks. Homecare aides have delivered millions of successful visits via CellTrak. More information can be found at: http://www.celltrak.com
Beginning in 2010 CellTrak Technologies and Telus Health Solutions announced a major partnership in Canada. This partnership includes Telus bringing to market the award winning CellTrak solution under the MobileCare brand name. All references above to CellTrak are also available in the MobileCare solution.

CellTrak Technologies (point of care health solutions) was awarded the prestigious I Award® for Best Operational Effectiveness Solution in 2010. The award was presented by Triple-Tree LLC and sponsored by the Wireless Life Sciences Alliance (WLSA). More information can be found at http://www.wirelesslifesciences.org or at http://www.triple-tree.com
###