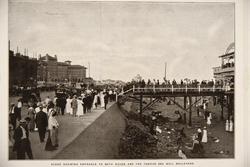 The Ghost of Sister Katherine.
Galveston, TX (Vocus) September 21, 2010
Hotel Galvez & Spa, a Wyndham Grand® Hotel, invites the public and hotel guests to embark on exciting ghost hunts during the month of October. The "haunted" hotel is extending its ghost tour, typically reserved for guests, to the public as part of a special three-course dinner special on Thursday evenings. Additionally, the hotel will offer special overnight ghost tour packages for guests on Thursdays and in conjunction with its popular Sunday Brunch.
Beginning on Thursday, Oct. 7 and continuing through Thursday, Oct. 28, the public can enjoy a one-hour ghost tour of the historic hotel followed by three-course dinner at Bernardo's Restaurant, located on-site at Hotel Galvez. The public ghost tour is only available as part of the dinner package priced at $35 per person. The tour begins at 6 p.m., followed by dinner at 7 p.m. Advance reservations are required for the dinner. Guests must contact the restaurant at (409) 765-7721 for reservations and may visit http://www.BernardosAtHotelGalvez.com to review the menu.
This year, Hotel Galvez has revamped its ghost tour packages to offer two options for overnight guests. Priced at $179 per night, the "Dinner with the Ghosts" package is available every Thursday night in October and includes deluxe guestroom accommodations for two, a three-course dinner for two, the ghost tour and valet parking. The Thursday night package is based on double occupancy and subject to availability. The "Galvez Ghost Brunch" package, priced at $189 per night, is available every Sunday in October, including Halloween, based on double occupancy and subject to availability. The package includes deluxe guestroom accommodations for two, the famous Galvez Sunday Brunch for two, a guided ghost tour on Sunday evening, valet parking and a 25 percent discount on a treatment of choice at The Spa at the Hotel Galvez, giving guests the opportunity to relax before or after their frightful tour. Pricing for both packages does not include taxes and gratuity.
During Thursday and Sunday tours, Hotel Galvez concierge Jackie Hasan will guide participants through the ghostly past of the hotel while using an electromagnetic field detector and infrared thermometer to conduct a paranormal investigation.
"Over the years, guests have reported seeing or feeling a presence in some parts of the hotel, primarily on the fifth floor," says Hasan. "The ghost tour and dinner package at Hotel Galvez seeks to explore eerie encounters while providing participants with a great, entertaining experience."
Hotel staff has often reported odd occurrences throughout the hotel, such as candles blowing out on their own and dishes breaking with no one around. The hotel is also known for its "Ghost Bride," who has reportedly been seen in Room 501 and throughout the fifth floor. This October, the hotel will be included in an episode of the Travel Channel's Ghost Stories entitled "The Ghost of Sister Katherine." Hotel Galvez was featured on Discovery Channel's Ghost Lab in 2009.
Hotel Galvez & Spa, A Wyndham Grand® Hotel and a National Trust Historic Hotel of America, remains the only historic beachfront hotel on the Texas Gulf Coast. Hotel Galvez, rated four diamonds by AAA, is owned by Galveston preservationists George Mitchell and is part of Mitchell Historic Properties. For reservations, call (800) WYNDHAM, or visit http://www.WyndhamHotelGalvez.com and check special offers.
Wyndham Hotels and Resorts, LLC and its affiliates, subsidiaries of Wyndham Worldwide Corporation (NYSE: WYN), offers upscale hotel and resort accommodations throughout the United States, Europe, China, Canada, Mexico and the Caribbean. All hotels are either franchised by the company or managed by an affiliate or through a joint venture partner. For more information, visit http://www.wyndham.com.
###