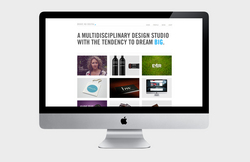 "We're bringing something new to the table; something that will promise your business new-found customers and frustrated competition."
Tampa, FL (PRWEB) September 22, 2010
Today, Brave Nu Digital announced the launch of their new website which will introduce a fresh line up of featured work and a smartly reinvented user experience. This launch will lead the charge for greater web visibility, new marketing initiatives and a reach for new clients.
The new http://www.bravenudigital.com is a substantial upgrade from its predecessor with a simplified navigation, cleaner aesthetic and no extra steps between the user and the main attraction — truly great design. Every client page now has an updated showcase system as well as an in-depth case study distilling the entire process into an Overview, Challenge and Solution.
Overall, this web evolution speaks to the growth and maturity of the studio itself. Although only a year into its life, Brave Nu Digital is already pushing the envelope for creative design in the Tampa Bay area and continues to aim high for the city's most prominent brands.
"We feel that this new website will more accurately communicate the level of our work and the depth of thought behind it," said Zac Taylor, BND Strategist.
Another new note-worthy feature is the addition of an online store comprised of all original prints, apparel and other unique items to come. The store will serve as an open forum for artists to contribute their art form for virtual display and purchase.
The Brave Nu Digital Story:
Formed in the fall of 2009, Brave Nu Digital is a multidisciplinary design studio with over 16 years of collective experience working closely with local, national and international clients. Structured as a remote team of designers, copywriters, developers, filmmakers and strategists — BND is your smoking gun for hire.
The studio's growing experience spans across multiple industries such as Academic, Business-to-Business, Consumer Retail, E-Commerce, Internet Technology, Legal, Medical, Non Profit and Real Estate.
As a client, the creation process you'll experience is simple: research and consultation, concept creation, design development, production — and it all occurs under one roof to create a cohesive end product through and through.
Future plans include opening multiple offices across the country to take the Brave Nu Digital gospel to the masses. "Unlike most traditional agencies, we use design to create truly immersive experiences — the kind that grab people by the heart and inspire them to move, to buy, to spread the word." says Gabe Lopez, Founder and Creative Director. "We're bringing something new to the table; something that will promise your business new-found customers and frustrated competition."
###