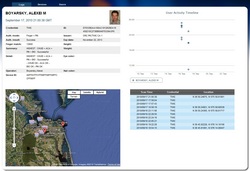 The innovative, user-focused functionality that MaxIDentity Services brings to the agency or facility is impressive
Fairfax, VA (Vocus) September 22, 2010
MaxID, a leading provider of identity solutions broadened its solution offerings today with the announcement of MaxIDentity Services, a cloud-based system for real-time collection, storage, organization and analysis of field-based identity verification and intelligence data.
The MaxIDentity Services offering allow organizations using MaxID handheld multimodal devices to feed real-time identity and intelligence information into a central repository that can be accessed from a simple web browser. Time and location-based information is combined with the field data to provide a crystal-clear real-time view and analysis.
"The innovative, user-focused functionality that MaxIDentity Services brings to the agency or facility is impressive," said Mark Sauter, Managing Director of Legend Merchant Group, Inc. and co-author of the leading homeland security textbook and widely-quoted industry reports. "By combining cloud computing, real-time information flows from field devices, time and geospatial data, and powerful analytics, MaxID Corp raises the bar in its category."
Hundreds if not thousands of people cross into critical locations or perimeters each day at ports. Airports, power generation facilities, chemical/petrochemical plants. With the combination of the MaxIDentity Suite, the MaxID iDL500 mulitmodal computer and the MaxIDentity Services, the identities of all those gaining access are "streamed" to a high-performance database in real time. And all the information is available to be viewed in real-time using a standard web browser. Analysts can zoom in on a particular location, operator, gate or time frame to look with more granularity of emerging patterns.
With MaxIDentity Services, all identity verifications -- including biometrics, smart cards the likes of PIV, TWIC, CAC, FRAC, FiXS as well as Driver's licenses, Passport/ePassports and Seafarer IDs are "streamed" in real-time to a logging facility on a high-performance cloud. Administrators can click on one of these verifications and look at the corresponding biographic and biometric data collected, the prior locations and times of the subject's movements and the associated geospatial information.
The MaxIDentity Services offering is available on a per-month/per-user/device service or for larger organizations a full cloud-cluster complete with high-performance hardware and software can be purchased and installed in a secure facility.
The iDL500is a multi-modal, rugged mobile computer that offers a complete set of features -including QWERTY keyboard, contact card, contactless card, barcode, optical fingerprint, and optional magnetic swipe and MRZ readers with a digital camera, GPS, and comprehensive communications capabilities. The iDL500 is a complete, integrated mobile solution for all badging and identity management requirements.
The MaxIDentity Suite contains a series of ready-to-use applications to read PIV, PIV-I, TWIC, CAC, FiXS and FRAC smart cards as well as passports, ePassports, Seafarer ID cards and driver's licenses. The product can be purchased using the Software-As-A-Service (SaaS) model, so organizations can pay a low monthly fee for the application suite as an alternative to purchasing outright. The suite is available on the MaxID line of multimodal products including the iDL500, iDL502 and iDL520 today. The MaxIDentity Suite can connect directly to MaxIDentity Services with a 3G or WiFi connection and subscription.
For more information about the MaxIDentity Services visit the MaxID website at http://www.maxidcorp.com/cloud or call +1 703-537-0125.
About MaxID Corporation
MaxID Corp is a leading provider of identity and security solutions. It designs, manufactures and sells identity management solutions for a mobile environment. The company is headquartered in Fairfax, Virginia and has offices in Chesapeake, Virginia, the United Kingdom and South Africa.
MaxID Corp maintains a global research and development team that has more than 20 years experience introducing new technologies. The company's most advanced biometric handheld devices are manufactured in the United States and are distributed worldwide. More than 25,000 identity devices are being deployed worldwide by customers such as the US Department of Defense, the US Department of Homeland Security, border and law enforcement agencies, and power generation and maritime facilities.
For more information about MaxID Corp, please refer to the website http://www.maxidcorp.com or call +1 (703) 573-0125.
###