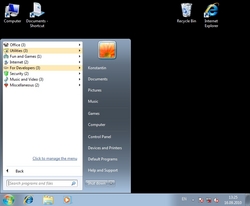 "Many Windows users tend to avoid using the Start menu often as it contains an extremely long list of applications. We are offering an elegant solution that make it easy, quick, and convenient to use the Start menu", says CEO of Chemtable Software.
Katonah, NY (PRWEB) September 23, 2010
Chemtable Software announces The Handy Start Menu , a new utility that enhances the standard Start menu and makes it more convenient and quicker to use.
The Handy Start Menu automatically groups applications installed on the computer by their purpose and reduces the list of programs in the Start menu to just a few items. This makes it considerably easier for the user to find applications as there is no need to browse through long lists.
The Handy Start Menu makes it incredibly quick to run applications because users do not have to open application folders and look for a shortcut they need. Now it is enough to click on the application folder, and the program instantly determines the needed shortcut and launches the application.
The first key advantage of the enhanced menu is its look which is similar to the standard menu. Users do not have to get accustomed to the new interface. At the same time, they will be able to work with the menu more efficiently, spending less time on search and launch of applications.
The second key advantage of the program is automation. When launched, the utility automatically collects information about installed applications and organizes them into groups. If some application cannot be categorized automatically, the user can add it to a group manually. Information about manual grouping can be submitted to the server in order to update the process of automatic grouping.
The third advantage of The Handy Start Menu is that it is distributed as freeware. The program costs absolutely nothing, and any Windows user can take advantage of the product. The Handy Start Menu supports all versions of the operating system, ranging from XP to Windows 7.
The Handy Start Menu program can be downloaded from:
# # #