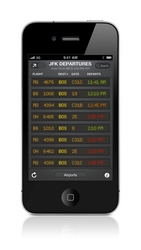 Ann Arbor, MI (PRWEB) September 30, 2010
Mobiata, creators of the best-selling travel apps FlightTrack and FlightTrack Pro, announced today the launch of a new application for iPhone, iPod touch and iPad users called FlightBoard. Designed after the Arrivals and Departures Board at Charles de Gaulle Airport in Paris, this new travel app turns a user's screen into an arrival and departures board for any airport in the world. By simply entering the name of the airport they wish to view, users are given a full view of their incoming and outgoing flights, status of these flights, as well as gate numbers. The app is available beginning today on the iTunes App Store for $3.99.
"Our new FlightBoard app transforms your iPhone or iPad into an Arrivals/Departures board," said Ben Kazez, president and founder of Mobiata. "Based on the beautifully designed airport board at Charles de Gaulle Airport in Paris, FlightBoard brings the romance of travel to everyone, from the armchair traveler to the frequent flyer, with real-time information."
A list of the unique features for FlightBoard includes:

Works with over 4000 airports and 1400 airlines worldwide.
Automatically updates every 5 minutes.
Beautiful interface inspired by the flight board at Charles de Gaulle Airport in Paris.
Quickly switch between Departures and Arrivals view.
Easily share flight info with friends and family via Twitter, Facebook and email.
Instantly narrow results via an exceptional search interface.
Get real-time status for any flight in the world.
FlightBoard will be available to iPhone, iPhone touch and iPad users at launch, with additional platforms to be launched at a later date. FlightBoard joins the growing family of best-selling travel apps from Mobiata: FlightTrack, FlightTrack Pro, TripDeck, StayHIP, HomeAway, FareCompare and HotelPal.
FlightBoard is available at: http://www.mobiata.com/flightboard-app
About Mobiata
Mobiata creates best selling mobile travel applications for smartphones. Since its founding in December 2008, Mobiata's applications have been featured by the New York Times, Wall Street Journal, Forbes, Washington Post, TechCrunch, USA Today and in Apple TV and print ads. Mobiata's apps include the best selling FlightTrack, FlightTrack Pro, TripDeck, StayHIP, HomeAway and HotelPal applications. Mobiata also offers mobile travel design and development services, enabling third parties to easily launch a well-crafted mobile strategy. Mobiata is headquartered in Ann Arbor, Michigan. For more information, visit the website at http://www.mobiata.com. Follow us on Twitter: @mobiata.
# # #