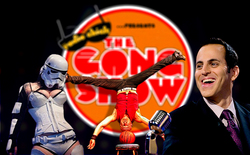 Gene Gene the Dancing Machine
New York, NY (Vocus) September 22, 2010
In an event especially suited to Halloween, New York's most bizarre, deranged and hilarious theatrical stage show, Gong Show Live (http://www.gongshowlive.net), returns to BB King's on 42nd Street in Times Square for a special Halloween show on Sunday, October 31 at 8 pm.
Gong Show Live showcases original, offbeat talent acts performing for an audience and three judges, using the same format and spirit of the pioneering '70s TV show, The Gong Show. Acts deemed unbearable are "gonged," and/or ridiculed by both the judges and audience members.
Producer Leslie Gold, the New York City-based radio and TV host whose Radiochick Corporation holds the rights to stage Gong Show Live events in the US, said, "The original Gong Show's variety, humor and surprise elements made it not just memorable, but set precedents. There'd be no General Larry Platt, no America's Got Talent, Big Brother or the others without The Gong Show. Our show brings all of the fun and lunacy of the TV show to a theatrical stage production, and there's truly nothing like it."
In addition to the talent acts, Gong Show Live's entertainment quotient is augmented by its host, comedian Ray Ellin; three judges - Chuck Nice, Leslie Gold "The Radiochick" and Dan Naturman - known from their work in standup comedy, TV and radio; casting by Robert Russell, renowned for the New York casting of hit reality TV shows including The Bachelor, The Apprentice, Big Brother, The Restaurant, Moment of Truth, and NBC's Phenomenon; and the four-piece Gong Show Ten Orchestra, led by veteran drummer Sandy Gennaro (Cyndi Lauper, Bo Diddley, Joan Jett). Gong Show Live even has its own updated versions of two of the original TV show's most popular performers, "Gene Gene the Dancing Machine" and "The Unknown Comic."
More than 350 talent auditions were screened for the premiere of Gong Show Live, staged at BB King's in August. Press response includes: "Packed with shock value" (Good Day New York, WNYW-TV Fox 5); "Chuck Barris would be proud" (NBC NY.com); "Jaw-droppingly hilarious" (Valerie Smaldone, WOR-AM); "Truly frightening" (Verizon FiOS1 News); "A huge success" (Nora Nolan, WomanAroundTown.com); and "The Gong Show is back and better than ever" (Josh Estrin, Pop Culture Examiner).
These and other performers will be featured at Gong Show Live Halloween Party at BB King's on October 31:

Chipps Cooney – Comedian/illusionist from Edgewater, NJ who made it to top 30 of America's Got Talent
Cultured Kramden - Ralph Kramden reincarnated as an erudite scholar
Heidi the Yodeling Guy - A goat-milking, yodeling, frenzied phenomenon from Las Vegas
The Amazing Amy – Elderly female contortionist from NYC who performs to a Star Trek theme and who was rejected by America's Got Talent
April and May – Female ventriloquist from Hell's Kitchen, NYC who delivers singing telegrams by day and whose act (as seen on Rachael Ray, The Soup, and Last Comic Standing) often ends with her in her underwear
Wild Cherryz Burlesque Troupe – Long Island ladies with hot bodies and a steamy burlesque act
Jessica Delfino – Avant-garde New York comedian who sings a public service announcement while accompanying herself on the rape whistle
The Single Mommas - New Jersey/Washington, D.C. trio with a "pregnant" new twist on Beyoncé's "Single Ladies"
Wonder Boy, The Interpretive Dancing Robot – Lifeguard/aspiring NYC firefighter by day who whose mother really is a clown
Last-minute acts selected from the show's audience will also be selected to perform. Complete show info is available at http://www.gongshowlive.net.
Tickets for Gong Show Live at BB King's on October 31st are $20 in advance and $25 day of show. BB King's http://www.bbkingblues.com is located at 243 West 42nd Street in Times Square (between 7th & 8th Avenues), New York, NY 10036; phone 212-997-4144.
###