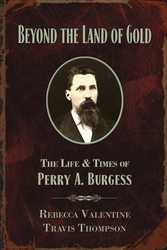 Acworth, GA (PRWEB) September 22, 2010
Perry A. Burgess is a name long recognized by American frontier history buffs. For the first time ever, his Montana diaries, excerpts from his Steamboat Springs diaries and his lost Steamboat Pilot newspaper essays are combined in one volume and brought to life by the storytelling of Rebecca Valentine. Beyond the Land of Gold: The Life & Times of Perry A. Burgess was released on September 17, 2010 by Thompson Media and is now available for shipment.
Travis Thompson, owner of Thompson Media and project editor/developer of the book, explains the significance of this addition to western regional history. "People interested in western history, including the gold rush era and the development of north-central Colorado, may recognize Perry's name. But until now, very little of his life prior to and following the gold rush years was known. Our new book fills that knowledge gap with an engaging, compelling account of his full life. It includes more than 120 images and 200-plus pages of Perry's own writing beginning with the Bozeman Trail years and ending with his death in Steamboat Springs, Colorado."
Beyond the Land of Gold shines a spotlight on Burgess, born into a deeply religious Mormon family and whose father died during the Exodus to Utah. The book details his young-adult life as a gold rush pioneer as well as his banking years in Missouri and Colorado. Burgess, his Uncle Lewis Cheney and A. J. Macky, were instrumental in developing Boulder, Colorado. Together, they created its banking system and helped build the foundation for Pearl Street, Boulder's twenty-first century cultural Mecca. Burgess, along with William E. Walton (great uncle of mega-retailer, Sam Walton), was also heavily involved in the founding and development of Steamboat Springs.
"Perry's a fascinating man on so many levels," says Rebecca Valentine, the book's author. "The man lived and breathed adventure. He was successful as a banker, investor, miner and writer. Truly, Perry was a Renaissance Man."
Valentine and Thompson have compiled—for the first time ever—Perry's Montana diaries, along with his recently discovered Steamboat Pilot newspaper essays, in which he vividly recollects his adventures of years gone by. Fully indexed, the resulting book Beyond the Land of Gold is a valuable resource for historians, museums, libraries and anyone interested in American Western history.
Learn more about the book and its creation or place an order at http://www.burgessdiary.com. Retailers may place orders through Atlas Distribution by calling 1-800-BOOKLOG or through the Ingram Book Company.
Rebecca Valentine and Travis Thompson are available for speaking appearances and book signings. Contact Travis directly at 678-574-4694, or Rebecca at 970-978-6851.
MEDIA: Background information and high resolution, print-ready photos are available for download from the book's website at burgessdiary.com.
###