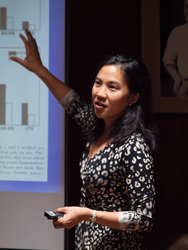 There are learnable, teachable strategies that facilitate self-control
(Vocus) September 22, 2010
The Taft School welcomed renowned expert Dr. Angela Lee Duckworth to campus to shed light on new ways of understanding academic success. Through a full day of in-depth and lively discussions, the Taft community explored the strong connection between self-discipline and achievement. Dr. Duckworth is a professor of psychology at the University of Pennsylvania and one of the nation's leading experts on impulse control and perseverance in children and adolescents.
Dr. Duckworth led the community, faculty and students alike, in conversations about the roles that impulse control, perseverance, and grit play in growth and accomplishment. With research to back up her assertions, she helped break through the common assumption that pure talent and raw intelligence are the most important markers for academic success. Of course, talent and effort both matter to a student's success, but Dr. Duckworth's research highlighted that students with a high degree of self-discipline are highly likely to achieve.
"There are learnable, teachable strategies that facilitate self-control," explained Dr. Duckworth in her all-school presentation. After detailing and explaining the strategies, she went on to conclude that "hard work can be learned."
Angela Lee Duckworth has had a distinguished career as a teacher, researcher and scholar. She graduated from Harvard and then received an MSc with Distinction in Neuroscience from Oxford University and her MA PhD in Psychology from University of Pennsylvania.
Her visit represents Taft's ongoing effort to stay current on the latest research in successful learning. Earlier this year David Levin, founder and director of the Knowledge is Power Program (KIPP) and author of Work Hard, Be Nice visited campus, sharing his insight into the learning process and engaging with students and faculty.
Taft is an independent boarding and day school for 588 boys and girls in grades nine through post graduate. Founded in 1890 by Horace Dutton Taft, younger brother of President William Howard Taft, the school moved to Watertown in 1893. More than a century later, its motto of service—Not to be served but to serve—remains central to the school's mission today.
Contact:
Maggie Dietrich
Office: 860-945-5942
Cell: 860-483-0733
###