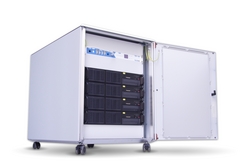 "If you look at the history of IT adoption in the SMB, they require simple technologies that offer an easy stepping stone with tangible business benefits – they can't afford to employ more IT staff on site to manage and integrate complex new technology."
(PRWeb UK) September 22, 2010
Serial entrepreneur and high-tech visionary Kristof De Spiegeleer will give his first UK presentation in many years at the upcoming Cloud Computing Forum 2010 this September. De Spiegeleer will outline a counterpoint to the hype over cloud computing that suggests that a hybrid model using an innovative new class of customer premises "appliance" is vital for the adoption by small and medium business in partnership with the channel.
Kristof De Spiegeleer has spent the last decade focused on datacenter and utility computing and has founded and later sold his technology companies to Terremark, Veritas and Sun Microsystems. Technology created by his companies form the basis of the Sun / Oracle cloud platform, Symantec's NetBackup software and several pioneering Cloud platforms.
With directorships or chairman status at 4 innovative companies all engaged in different areas of delivering cloud or managed services, De Spiegeleer has been at the forefront of the European drive towards adoption of cloud computing. He has also held the role of Director, Cloud Computing at Sun Microsystems prior to its acquisition and leads a prominent European focused incubator and Venture Capital investment firm.
"The notion that all businesses will overnight switch to cloud computing is not feasible, even virtualisation technologies proposed by VMware, Microsoft or Citrix simply do not help small firms enough to justify their inherent cost," comments De Spiegeleer, "If you look at the history of IT adoption in the SMB, they require simple technologies that offer an easy stepping stone with tangible business benefits – they can't afford to employ more IT staff on site to manage and integrate complex new technology."
As Chairman of the Board for Zenith Infotech Europe, De Spiegeleer will be highlighting the firm's Smart Style Office as the first "On-Premise Cloud" solution to provide a completely scalable IT environment from within a single appliance to replace conventional hardware and infrastructure with virtual desktops, servers, storage and networking.
De Spiegeleer will be presenting at the CRN Cloud Computing Forum 2010 on 30 September at the London Marriott Hotel in Grosvenor Square. The event includes representatives from Microsoft, Bell Micro, Magirus UK, Kelway, Colt Telecommunications and is aimed at business leaders within the reseller community preparing for new cloud computing opportunities.
Kristof De Spiegeleer would like to brief the press and analyst community on the strategy the group of companies he leads and invested in is following as the market for cloud computing evolves. De Spiegeleer will provide a candid viewpoint on both the positive and flawed aspects of the cloud model as well as details of groundbreaking new products, trends and market strategies that are emerging from several innovative European start-up companies.
About Zenith Infotech Europe
Zenith Infotech Europe is the European division of the international group Zenith Infotech Ltd. The European headquarters is based in Belgium, operated by A-Server NV. Zenith Infotech has a focus on providing standardized and scalable managed IT services to the reseller channel. The service is oriented exclusively to the SME segment.
The portfolio of services is a perfect complement to the activities of the IT reseller. These services are offered through the network operations center in Mumbai, India, where about 700 people support the managed services infrastructure and global customer portfolio.
The services include backup and business continuity solutions for SMEs, Monitoring and Management services for desktops and servers, and more recently the management of an overall SME IT environment via Style Smart Office, an innovative cloud computing solution for network computing. 40,000 sites currently managed by 4,000 IT resellers.
More information can be found on http://www.zenithinfotech.eu