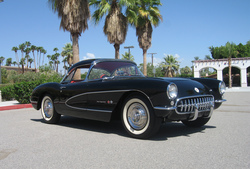 Each event combines the sale of high-end cars with the excitement of a luxury vacation.
Palm Springs, CA (PRWEB) September 23, 2010
Keith McCormick and his family are living their dream lives, hosting one of the most successful exotic car auctions in America from one of the top vacation destinations in the world.
"When I moved from the United Kingdom in 1981," Keith explained, "it was with a plan to combine my love of the Palm Springs resort lifestyle with my lifelong devotion to exotic cars."
Already a successful entrepreneur in Great Britain, Keith and his family hosted their first car auction in 1985. While modest by today's auction standards, it was the start of a rich tradition that has earned the McCormick's the respect of brokers, dealers and collectors worldwide, while also attracting an avid crowd of car enthusiasts at each event.
What makes McCormick's Palm Springs Collector Car Auctions so unique?
"For one thing, our company is family owned, so we never lose the personal contact with our customers. They can pick up the phone and call us anytime with questions," Keith said. He added that most of the company's employees have been with them for over 20 years. "So they're like family. We treat them the way we want to be treated."
Each event combines the sale of high-end cars with the excitement of a luxury vacation.
Keith highlights another important reason the McCormick auctions have become popular with national and international audiences. "Where else can you conduct business in a world-class resort setting, hit the slots, jump in the pool, dine in a Zugat-rated restaurant and hike up a mountain?"
McCormick also adds to the festive, friendly climate by providing a complimentary dinner Friday evening for all registered bidders and offering free public admittance to the evening's bidding event.
Sellers: Be first off the block for the November auction. Register now.
The 49th McCormick's Collector Car Auction, held at the Spa Resort Casino in downtown Palm Springs November 19-21, 2010, will feature over 500 mint antique, classic, exotic, muscle, sports and special interest autos. Lot numbers are currently for sale. Call (760) 320-3290 to book. For general information on the auction and company, visit http://www.Classic-CarAuction.com.
###