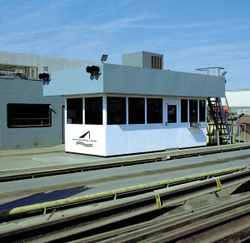 Los Angeles, CA (PRWEB) September 22, 2010
Recycling facility operators are reporting an increased trend in the use of scale houses and control cabins to assist with operations at the front line, such as those manufactured by B.I.G. Enterprises http://www.bigbooth.com, a California-based prefab booth builder.
With today's fluctuating metal prices and increased labor, insurance, fuel, and equipment operating costs, the investments made when structuring and maintaining a recycling facility must be thoroughly calculated.
As in any industry, a vital aspect for recycling companies to consider during a tough economy is how to best manage operating costs. With hundreds of vehicles frequenting recycling facilities each day, the need for up-to-date technology and operational efficiencies is key in maximizing business potential in for-profit environments and skillfully utilizing taxpayer dollars in government-managed organizations. Necessary security measures for employees, customers, cash and physical property also become crucial.
The primary issues faced by facilities without a scale house are security and equipment maintenance problems. The security of company assets in an unconfined space as well as the threat from dust and weather can create an environment that is detrimental to necessary electronics such as computers and communications systems.
Uncontrolled environments that once plagued the operational efficiency at many facilities can now be eliminated with the purchase of a prefabricated scale house. Unlike manufacturing a structure onsite, prefabricated options avoid retaining an architectural firm, going through a lengthy permit process, finding a competent builder, and then waiting for a protracted construction process to play itself out.
In the case of Hennepin County Environmental Services in Minneapolis, Minnesota the primary functions found to be the most helpful were the climate control offered by the HVAC, traffic control, and safety for vendors, suppliers, visitors, drivers and attendants.
"It provides the same things a building would—security, safety from the elements, and it's clean. Our employees keep saying that it's so clean. They are also more productive with a climate controlled scale house, especially with our harsh weather," said a representative.
"Now we have everything centered where we can greet our customers without having to leave the counter area where the computer displays the weight," says a recycling manager.
"We can handle a few more trucks now because they aren't kept waiting as long," sums up one of the control cabin operators from the inbound side. "I'd say we save as much as 35% more time."
More Information about B.I.G. Enterprises:
For over 45 years, B.I.G. Enterprises, Inc. of South El Monte, CA has engineered and manufactured high quality prefabricated booths for the security and parking industry. Their large selection of preassembled buildings includes guardhouses, cashier booths, portable buildings, bus shelters and a variety of custom made kiosks.
Utilizing a proprietary "Critical Span" manufacturing technique that increases convenience and strength in prefabricated structures, the B.I.G. team has booths protecting our nation's capital, nuclear power plants, international airports, colleges, universities and corporate offices.
Contact Information:
Dave King
B.I.G. Enterprises, Inc.
9702 East Rush Street
South El Monte, CA 91733-1730
Toll Free: 800.669.1449
###