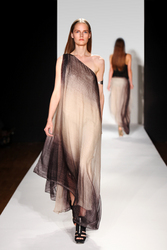 prints that anyone can wear…and feminine menswear
New York, NY (Vocus) September 21, 2010
WALTER presented its Spring 2011 collection this evening at the Metropolitan Pavilion, as part of New York Fashion Week.
Walter Baker, founder and creative director of the contemporary fashion label, WALTER, took major steps toward growth this season, showing an original and fresh collection that exemplified the brand's modern & minimalist approach to Spring 2011. The line, which is already highly regarded in the market for its trendy and skillfully crafted designs, presented its first collection with new design director, Elizabeth Giardina, previously a designer for Halston and Halston Heritage.
To help showcase the brand's subtle and sophisticated lines, the company partnered with famed stylist Paul Bui. The Australian influence was high, as Paul was flown in for the event--and each look was accessorized by Australian luxury jewelry brand Bunda Boutique, where their classic yet unique metallic pieces were the perfect complement to WALTER's soft & fluid silhouettes--adding a hard edge to the otherwise relaxed vibe. Beauty looks for the Spring 2011 runway were created by fellow Aussie, Napoleon Perdis, who is notorious for elevating natural beauty, and made sure that the freshest faces made their way down the runway. Looks were completed with shoes from Velvet Angels, a wearable yet luxurious footwear brand based in Los Angeles.
Front row revelers, such as Becka Diamond, Harley Viera-Newton and Katrina Bowden, rocked to DJ Mia Moretti as the WALTER Spring 2011 collection, inspired by the natural colors emitted from New York City's skyline from dusk to dawn, were shown. The first palette captured the saturated deep blues and watery warm grays that are emanated throughout the evening, while the second shifted into grassy greens, soft grays, pinks and blacks that are often produced in the early morning hours. The final group contained soft and lovely hues of light pinks, sky blues and sunny yellows, as seen at daybreak.
Strong jackets--WALTER's key item every season--were worn back to beautifully draped pieces in silk crepe, organza and chiffon, which lent sophistication to the collection. Fringe was a key trim and was shown primarily on scarves, instantly adding movement & whimsy to the tailored lines.
The Spring 2011 collection is about "prints that anyone can wear…and feminine menswear," said Giardina. "The clothes are clean, minimal and wearable—they are interesting and modern but could also be a staple in any woman's closet."
"For spring 2011, I was inspired by the uninhibited & free-spirited New York woman," says Baker. A better representation of this vision could not have been shown...........
# # #