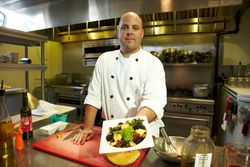 "What may surprise them even more is that my wife is a vegan," said Barlow, who makes no apologies about his love of meat.
Nashville, Tenn. (PRWEB) September 23, 2010
Tayst restaurant Chef/owner Jeremy Barlow is presenting a wine dinner he has longed to throw – one in which not a single animal product will land on the taste buds of his guests. He's calling it VEGANSTRAVAGANZA 2010, and for the Nashville chef known for his love of meat, the event will surprise the locals.
"What may surprise them even more is that my wife is a vegan - it's a yin and yang kind of thing," Barlow said. "I do use whole animals, wasting nothing, and I do purchase only from farms where animals are treated humanely - but I also love plants and the people who eat only plants. I've been planning this event for quite some time, to get it just right."
Tayst is Nashville's only certified green restaurant, and a three-star certified one at that, making it one of only a couple dozen restaurants in the nation with as high a green designation. The certification comes from the Green Restaurant Association based in Boston.
For $45, guests will be treated to a five-course vegan feast, with each course carefully paired with a wine by Tayst wine steward Adrien Matthews. The menu will consist only of dishes created with plants, grains, vegetables, fruits, seeds and nuts – nowhere in any of the courses will there be any meat, milk, cheese, egg or any other product that comes from animals.
"Vegans often don't want to come to Tayst because I serve meat – a lot of people have philosophical objections to meat eating. I respect that, and I want Nashville vegans – Nashvegans, if you will – to know that I have worked really hard to create a dinner that they will feel good about eating, and also one that will be delicious," Barlow said.
The full menu with wine pairings:
1st tayst: quinoa and pea cakes, spaghetti squash, pumpkin seeds, tomatoes, pomegranate
Hugel Picpoul De Pinet
2nd tayst: smoked pumpkin bisque, polenta fritos, arugula
Pisoni Nosiola
3rd tayst: almond gnudi, toasted almond, almond froth, sorrel pesto, pepper sauce
Deen di Bartolo Brut
4th tayst: marinated, grilled tofu, carrots, eggplant, crispy shallots, roasted cucumber, tobacco potatoes, beets
Clos des la Bridevid
5th tayst: dessert sampler: warm flan, cashew cheese, apples, chestnuts, dried cherries
Jean Bourguet Malbec "Port"
More about tayst is available at http://www.taystrestaurant.com.
About Tayst Restaurant and Wine Bar
Tayst Restaurant and Wine Bar opened in 2004 in the trendy Hillsboro Village area of Nashville and is Nashville's first and only certified green restaurant. In 2009 it achieved 3-star certified green status, making it one of only a handful of restaurants in the nation with as high a status. With a menu that relies predominantly on locally produced meat, fish, dairy, fruits and vegetables, the restaurant has a devoted following of people who desire food that is as fresh as possible. Jeremy is known for his playful, creative approach to cooking, and guests are as delighted by the unpredictable nature of his dishes as they are by the flavor.
Chef Jeremy Barlow has been featured on CNN, Martha Stewart Weddings, Martha Stewart Radio, Cooking with Paula Deen and was included in Mother Nature Network's 40 Chefs Under 40 list in 2009. He also is the 2009 Nashville Iron Fork competition champion.
###