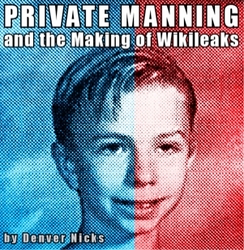 This is the most personal and revealing profile of Bradley Manning to date.
Tulsa, OK (PRWEB) September 23, 2010
In an explosive feature for the new monthly magazine, This Land, reporter Denver Nicks goes deep into the life of enigmatic whistleblower Private First Class Bradley Manning. By gaining access to life-long friends as well as Manning's Facebook account, Nicks illumines the extraordinary makings of the man who put Wikileaks on the international stage. Most importantly, Nicks debunks the commonly-touted media myth: Manning, it turns out, wasn't the frail, emotional wreck as commonly portrayed. In "Private Manning and the Making of Wikileaks," Nicks reveals that Manning was a politically-motivated genius who had a history of addressing the injustices he saw.
It's widely believed that Bradley Manning is the man behind the largest military intelligence leak in history. Among the many surprises we learn in the 4,000 word special investigative report, Manning was brought up in Crescent, Oklahoma--the same town where 35 years earlier, one of the largest whistleblowing events in American history occurred, involving Karen Silkwood and the contamination of employees at a Kerr McGee nuclear plant. As Nicks point out, the Silkwood scandal is still very much a part of Crescent culture, and was even more so at the time Manning was growing up and attending school there.
Nick's article is the first to:
--Offer a behind-the-scenes chronology of the Manning leaks
--Reveal that Manning was brought up in what is now the "Whistleblowing Capital of the World," Crescent, Oklahoma, the location of the famous Silkwood/Kerr-McGee Scandal
--Provide an in-depth analysis of Manning's personal life through Facebook updates and in-person interviews with lifelong friends.
"This is the most personal and revealing profile of Manning to date," says This Land Editor- in-Chief Michael Mason, "Understanding him is critical to the conversation of government transparency. Without Manning, Wikileaks likely wouldn't be on the world stage today."
Online, This Land press will also provide an unprecedented multimedia experience surrounding Manning. The online article will include:
--An audio recording of Manning's voice
--Scenes from his childhood in Crescent, OK
--Never-before seen glimpses into Manning's Facebook account
Nicks' article is also the first to fully offer a comprehensive timeline of Manning's alleged leaks, and his role in empowering Wikileaks as a serious force in the worlds of journalism and politics.
"If the allegations against him are true," Nicks writes, "Bradley Manning made Wikileaks what it is today."
This Land is releasing an early excerpt of highlights from "Private Manning and the Making of Wikileaks" online. The full version is available through print subscription to the magazine and will be posted online at a later date. In the same October 2010 issue, This Land features an exclusive interview with literary star Jonathan Safran Foer, and new writing from Oklahoma authors Eddie Chuculate, Jeff Martin, and editor Michael Mason.
###