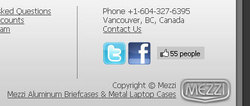 Having a strong presence on sites like Facebook and Twitter is a logical step for any business serious about keeping their customers informed and excited about their products
Richmond, BC (PRWEB) September 23, 2010
MEZZI, world-renowned briefcase manufacturer, has increased its internet presence by launching company profiles and giving news updates on two popular social networking sites, Facebook and Twitter. Already pushing the limits of internet-savviness with the recent release of their auction-style shopping opportunities, MEZZI is using social networking sites to connect personally with its customers.
"Having a strong presence on sites like Facebook and Twitter is a logical step for any business serious about keeping their customers informed and excited about their products," says MEZZI President David Mezzi. Recently, MEZZI launched a unique promotion on Twitter for which they awarded a random "follower" a $100 website credit when the company's page reached 300 followers.
There is no question that Facebook and Twitter have solidified their places in today's culture. Facebook boasts over 500 million active users, with more than 50% of those users logging into their accounts on a given day. It is also estimated that people spend 700 billion minutes every month on Facebook. Twitter accounts have risen to almost 200 million, and, on average, roughly 300,000 new users sign up to "tweet" each day. Additionally, on Twitter.com users are tweeting 65 million times a day.
"Doing business in today's instant cyber-climate is really about going to where your customers spend their time," says Mezzi, "and they spend their time socially networking. MEZZI's presence on Facebook and Twitter gives people an opportunity to connect with our company more easily and more frequently."
MEZZI makes access to its Facebook and Twitter pages easy by prominently placing links to their social network pages on the footer of its home page. Also on the home page are links displaying the current bid for items ending soon on MEZZI's unique auction system. Shoppers have been able to save over 50 percent off retail prices through the Auctions page.
Capitalizing on social media outlets can also create more business. Studies have shown that every Facebook wall post generates at least one website impression, and a company can expect to earn, on average, about $3.60 in new business for each person who "likes" their fan page.
MEZZI has already gained many dedicated fans and followers because of its high-profile presence in major motion pictures like "Mission: Impossible III," on NBC's hit game show, "Deal or No Deal" and the network's television show, "Chuck." In addition to selling a wide variety of briefcases, MEZZI also offers laptop cases, gun cases, art portfolio cases, travel cases, makeup cases, business card cases, CD storage cases, memory card cases and tool cases.
For more information about MEZZI or to see its full line of affordable, high-quality cases, visit http://www.MEZZI.com. Or check them out on Facebook and Twitter.
About MEZZI
MEZZI has been manufacturing and retailing fashionable, affordable aluminum cases for more than 15 years. In that time, MEZZI has grown its business from only a couple briefcases to a full line of cases suitable for a variety of uses. Its cases are often sought by celebrities for movies, television shows, music videos and gifts.
###