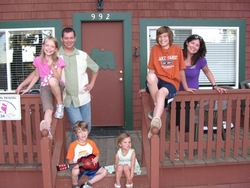 When the Tanton's filled out an online guest review, they were entered into a drawing for a free vacation.
South Lake Tahoe, CA (PRWEB) September 22, 2010
When the Tanton family planned to visit Lake Tahoe for the first time, it was with the intention that many families have these days; to combine a summer vacation with their children's sports camp. It can be a challenge incorporating this all into one trip, especially while keeping affordability and comfort in mind.
Instead of staying in a cramped hotel room, the Tanton family, traveling from Alberta, Canada, contacted Lake Tahoe Accommodations, and chose a private rental cabin in a convenient location to the South Lake Tahoe Recreation Center where their children were attending a hockey camp.
"The cabin was perfect for us. It was right across the road from a great beach and just a few minutes' walk from the ice arena," stated Bonnie Tanton.
The staff at Lake Tahoe Accommodations had an unexpected surprise in store for their new guests. When the Tanton's filled out an online guest review, they were entered in a drawing for a free vacation. They ultimately won, and are the current recipients of Lake Tahoe Accommodations free 5-night stay giveaway that is awarded at the end of each summer & winter season.
Bonnie is looking forward to their next trip to Lake Tahoe. "Another hockey camp might be a possibility, although we had such a great time at the beach that I think everyone would be thrilled just hanging out! It's just such an incredible opportunity to come back to the area."
Jim Morris, owner of Lake Tahoe Accommodations explains, "We've had great success over the last 30-years with nearly 150,000 families trusting us with their vacation lodging. This is our way of giving back."
About Lake Tahoe Accommodations: Headquartered in South Lake Tahoe, California, Lake Tahoe Accommodations has managed vacation rental properties since 1979, and was a founding member of the VRMA (Vacation Rental Managers Association). With four offices located in the Lake Tahoe area, they manage about 300 vacation properties and provide employment to approximately 20 area residents. For additional information, visit http://www.tahoeaccommodations.com, or call 800-228-6931.
###