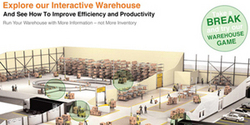 Bellingham, WA (PRWEB) September 23, 2010
Ryzex just launched a new educational interactive microsite for warehouse management and performance featuring printers from Zebra Technologies: http://www.warehousingoperations.com.
The new site is organized so the user can pick an area of a typical warehouse and see resources associated with that particular area. The site focuses on ERP integration, inventory management, picking, product ID, warehouse management systems, work in progress, compliance labeling, receiving, shipping and track and trace. Resources available for each of these areas include white papers, video case studies, podcasts, and more.
In addition, the site features a Joe Mobile online game and a chance to win an Apple iPad.
Visit the site: http://www.warehousingoperations.com
About Ryzex
Ryzex is a Zebra Premier Partner and a leading provider of worldwide barcode, data collection and mobile technology solutions. With over 20 years in business, more than 6,000 customers worldwide rely on Ryzex products and services, getting maximum lifetime return on their barcode, radio frequency identification (RFID) and ADC systems. Ryzex advises and implements the best solution, ensures the solution is running for maximum uptime and provides actionable data so investments perform better. Ryzex has approximately 300 employees across North America and Europe. For more information, visit http://www.ryzex.com.
About Zebra
Zebra Technologies Corporation (NASDAQ: ZBRA) provides the broadest range of innovative technology solutions to identify, track, and manage the deployment of critical assets for improved business efficiency. Zebra's core technologies include reliable on-demand printer and state-of-the-art software and hardware solutions. By enabling improvements in sourcing, visibility, security and accuracy, Zebra helps its customers to put the right asset in the right place at the right time. For more information, visit http://www.zebra.com
###