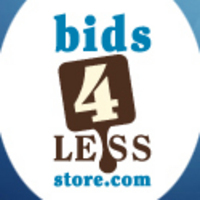 "We have the ability to negotiate great values on the hottest products, and pass on the deals to our customers. Plus, we are committed to customer service. Bids4LessStore.com is about quality, service and having fun shopping! ~Nick Narang, Founder
Santa Barbara, CA (PRWEB) September 22, 2010
Bids4LessStore.com is a new online auction site selling the hottest products on the market today – with a twist. Shoppers register, for free, to enjoy the fun of auction shopping combined with a vast selection of brand new, brand name products. Recently launched, this penny auction platform offers an interactive way to shop for great deals.
The auction shopping format is simple: Bids4LessStore.com offers products for sale starting at $0. Our customers bid on items, paying a nominal fee per bid, and the price of the item increases by only a penny. Winners can expect deals far greater than they would find with traditional online shopping. Currently, Bids4lessStore.com is offering the new, fiercely anticipated Halo: Reach, Home Depot gift cards, ipod Shuffles, and electronics. New products and auctions are updated regularly.
As part of the Grand Opening, Bids4LessStore.com is offering attractive specials to its customers, including 4 free bids for every completed registration, 4 new products every 4 hours, and 4 day auctions time frames. Our Facebook and Twitter pages offer additional incentives.
Bids4LessStore.com realizes that the key to long term clients is customer service. Beyond regularly introducing new products to keep customers satisfied, free registration and customer support 9am – 5pm, Monday through Friday, our procurement team has negotiated in-store merchandise pick up with our retail partners, saving our customers shipping fees. Some of our retail partners include Best Buy and Sears. Additionally, even if a customer were to lose the auction, they can still win with our Buy It Now feature. Customers are given the option to buy the product they were bidding on at a negotiated price - usually less than MSRP – and apply their recent bids to the price! Options like this make it even easier to bid, shop and win!
Register now at http://www.Bids4LessStore.com to earn your 4 free bids and start saving today!
# # #