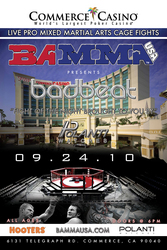 We want to give these hard working athletes a solid platform to showcase their skills. They are all professional fighters and deserve a chance to show their ability to fight
North Hollywood, CA (PRWEB) September 22, 2010
Bamma USA will present its inaugural live Mixed Martial Arts (MMA) event "Bad Beat," on September 24, 2010 at the Commerce Casino, in Commerce, California. Pro MMA Fighters from leading gyms throughout Southern California will take part in this exciting night of hard-hitting entertainment.
Founder and CEO of Bamma USA, Brett Roberts and his Team have searched the region to find the most promising up-and-coming Pro MMA fighters. "We want to give these hard working athletes a solid platform to showcase their skills. They are all professional fighters and deserve a chance to show their ability to fight," says Brett.
"Bad Beat" is sponsored by Hooters, Budweiser, Revgear, Velvet Industries, , and Polanti Watches—who will also present the, "Fight of the Night." Special guest celebrity fighters attending the event includes: Fabricio Werdum, Cristina "Cyborg" Santos, Evanagelista "Cyborg" Santos, Cub Swanson, Benji Radach, Nam Pham, Georgi Karakhanyan, Erik Paulson, James Wilks, Mike "Joker" Guymon, and Joe Camacho.
Details are listed below:
"Bad Beat" Live Pro MMA Fights Fight Card
Isaac Gutierres vs Brandon Bender
Jarod Papazian vs Kana Hyatt
Fernando Bettega vs Craig Wilkerson
Jose Morales vs Steve Swanson
Joshua Aveles vs Dion Ramirez
David Mancha vs Ozzy Avalos
John Potter vs Jack May
Bobby Sanchez vs Mark Vorgeas
LaTeef Williams vs Bret Albee
Tony Dalton vs Diego Bautista
Friday September 24, 2010
Commerce Casino
6131 E. Telegraph Rd.
Commerce, CA 90040
Doors open at 6:00 p.m. fights stat at 7:00 p.m.
Tickets: General Admission $40.00. Ring Side $100.00
Information regarding purchasing tickets can be found by visiting: http://www.bammausa.com.
About Bamma USA:
Bamma USA is a Mixed Martial Arts company dedicated to building fighters and
providing an environment in which fighters can truly showcase their skills. The desire is
to promote these athletes in a professional atmosphere and provide fighters and their fans with events that will allow them to watch their favorite fighters grow in the sport. Bamma USA thrives on bridging the rest of the world with this extreme sport.
###