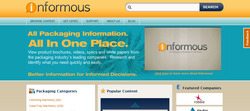 "Since Informous has been up and running I have started to receive multiple sales leads from my listings on their site." John Lewitt, VP of sales and marketing, PLEXPACK Corp.
Columbia, MD (PRWEB) September 22, 2010
How do companies in a niche industry efficiently and affordably reach prospective clients? The packaging industry has found the answer: posting content on Informous, an innovative new website for industry-specific marketing materials that launched last week. E2M, PLEXPACK and Econocorp are just a few of the packaging industry's leading companies that have chosen to include their product spec sheets, demonstration videos, catalogs, and more on the site – and they are already reaping the benefits.
Initially serving the packaging industry, Informous showcases thousands of products in dozens of categories, greeting visitors with an intuitive, elegant design. Visitors can view this content without the need for time-consuming downloads and registrations.
"Informous has been a great way to further gain market awareness for our company and brand," said Suzanne Pic, marketing specialist at E2M, Inc., a system integrator who provides project management and engineering services for the food, beverage, consumer products and pharmaceutical industries. "We saw a great opportunity to partner with Informous at the beginning and have already seen an increase in qualified sales leads from targeted decision makers."
Companies interested in being listed on Informous simply send their marketing and sales collateral via email or provide Informous with permission to pull the content from their website.
"Since Informous has been up and running I have started to receive multiple sales leads from my listings on their site," said John Lewitt, vice president of sales and marketing for PLEXPACK Corp. "Getting started was quite easy, as Informous lifted all the relevant information from the PLEXPACK site and all I had to do was to validate it."
Informous optimizes the content for maximum search visibility and posts it live on the site, allowing potential buyers to find exactly what they are looking for. The Informous platform utilizes a proprietary, Amazon-like recommendation engine, enabling visitors to see, for example, similar products and popular searches.
"The Informous site is easy to navigate and loaded with relevant information within virtually all packaging machinery categories," said Mark Jacobson, vice president at Econocorp, a cartoning equipment manufacturer in Randolph, Mass. "It is a very comprehensive guide to literature, specs and videos for customers looking for up-to-the-minute solutions to solve their packaging problems."
Informous launched in the packaging industry and plans to roll out to new industries over the next six to twelve months.
About Informous
Informous is a B2B content marketing platform enabling businesses to reach highly targeted audiences with specific content, generating more informed and qualified leads. By gathering, optimizing and distributing content to interested and relevant audiences, Informous helps businesses improve awareness and leads, while helping buyers make better decisions. For more information, visit http://www.informous.com.
# # #