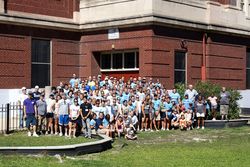 You don't always realize how little it takes to make a difference and this event gave me a new energy and motivation to find little ways to make a big difference in the lives of others.
Chicago, IL (Vocus) September 23, 2010
With the school year approaching, AthletiCo and Dreams for Kids launched an exciting partnership with AthletiCo's Inaugural Volunteer Service Day. Nearly 200 employees and their families collaborated with local youth, students, and school administrators on painting, landscaping, cleaning, and restoration projects at Frank W. Reilly Elementary School in Chicago. AthletiCo employees also raised nearly $1,500 to benefit the school's athletic department.
When AthletiCo and Dreams for Kids formed this partnership, AthletiCo President and Founder Mark Kaufman believed that it would benefit his company's employees as much as the 1,200 students who attend Frank W. Reilly Elementary School. The Volunteer Service Day was a successful first initiative and the employees of AthletiCo enjoyed giving back to the community.
"Meeting and working with employees from the other clinics and from the corporate office was great. It was my first time meeting many of them and we all bonded working on such a meaningful project," said Candice Reimholz, Massage Therapist, Grayslake.
AthletiCo received positive feedback from school administrators who made sure each volunteer understood the importance of their contribution. Regional Service Manager Erica Ames relayed a comment from the school's Assistant Principle who said, "You don't know how much this means to us. We wouldn't have been able to do this without you and we are so grateful." Ames noted that the Assistant Principle seemed genuinely moved by the work AthletiCo's employees were doing that day. "It made me realize that just those four hours out of my day changed someone else's reality and that was pretty powerful," said Ames. "You don't always realize how little it takes to make a difference and this event gave me a new energy and motivation to find little ways to make a big difference in the lives of others. Life is full of little ripples that make big waves of change and I am proud of the ripples we made that day."
As the day concluded, several employees mentioned how amazed they were at all the work the group had accomplished. With teamwork and a lot of effort, the dedicated volunteers completed a dramatic transformation, which included newly painted interior and exterior walls and refreshed landscaping. "Our team strives to build better and healthier communities," said Kaufman, who spent much of the day painting the interior of the school's gymnasium. "We feel great about our first volunteer service day and everyone is excited about working with Dreams for Kids in the future."
About Dreams for Kids:
Founded in 1989, Dreams for Kids is a volunteer based, registered non-profit 501(c)(3) children's charity that breaks down social barriers and end the isolation of at-risk youth. Dreams for Kids is empowering youth who live in poverty and those with disabilities, by uniting them with their peers, recognizing their abilities, and allowing their voices to be heard. The most isolated young people from every community are reminded they have something to give, and they are the solution – not the problem.
About AthletiCo Physical and Occupational Therapy:
Since 1991, AthletiCo has been the proud provider of rehabilitation, fitness, and performance services to many professional teams, performing arts companies, endurance programs, golf associations, volleyball clubs, high schools, colleges, and events in Chicagoland and Central Illinois. AthletiCo's first Wisconsin location opened in Milwaukee in December 2009.
AthletiCo provides orthopedic rehabilitation including physical and occupational therapy, work rehabilitation, performing arts rehabilitation, women's health therapy, spine control, pediatric physical therapy, vestibular rehabilitation, and athletic training/sports medicine. Expanded services include performance enhancement, fitness center memberships, golf fitness, endurance, nutrition, and massage therapy.
###