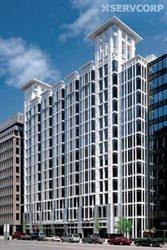 "We are confident we have chosen two outstanding sites for our Washington D.C. Executive Suites and Washington D.C. Virtual Offices, and we are thrilled to provide our clients world class IT and communications infrastructure in superb office space."
Atlanta, GA (PRWEB) September 22, 2010 —
Servcorp, a leading provider of virtual offices and executive suites to Fortune 500 companies, small and mid-sized businesses and entrepreneurs, announced today it has opened two premium Washington D.C. Executive Suite and Washington D.C. Virtual Office facilities – 1717 Pennsylvania Avenue NW, minutes from the White House and 1155 F Street NW, in the heart of Washington D.C.
Whether professionals are looking for a business address in the vibrant Penn Quarter near government offices, national embassies and numerous non-profit organizations or a location closer to the White House and major banking and financial institutions, they will find what they are looking for with Servcorp's exceptional D.C. facilities.
"Servcorp selects its locations based on a number of factors, including structure appeal, district and location convenience to banks, lifestyle amenities, hotels and restaurants," said Jennifer Goodwyn, vice president/general manager of Servcorp USA. "We are confident we have chosen two outstanding sites for our Washington D.C. Executive Suites and Washington D.C. Virtual Offices, and we are thrilled to provide our clients world class IT and communications infrastructure in superb office space."
The opening of the 1717 Pennsylvania Avenue NW and 1155 F Street NW facilities comes just prior to Servcorp's launch of its New York Executive Suites and New York Virtual Offices. According to Goodwyn, Servcorp's objective in opening facilities in two of the nation's central cities, Washington D.C. and New York, is to offer clients the opportunity to expand into key markets and grow their businesses to their full potential.
###