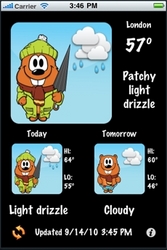 "It puts an interesting twist on checking the weather," says developer, Raffi Krikorian. "It helps me figure out what to wear at a glance."
Burbank, CA (PRWEB) September 24, 2010
Crelk Wireless is pleased to announce the release of its newest app - Weather Buddy - exclusively for the iPhone and iPod Touch. App users now have the ability to get answers to common questions: what should I wear? Do I need an umbrella? Should I take a jacket? With the help of Chooky the Chipmunk, the Weather Buddy App answers those questions in an amusing and entertaining manner.
The main screen shows current, today, and tomorrow's conditions, and landscape mode displays a 5-day forecast. The Weather Buddy App is designed to have sounds to match each weather condition. Chooky the Chipmunk also forecasts clothing requirements based on location-specific weather conditions.
"It puts an interesting twist on checking the weather," says developer, Raffi Krikorian. "It helps me figure out what to wear at a glance."
Features Include:

Ability to get weather for current GPS location
Setting to choose any city in the world
On demand refresh
Preference settings to turn off sound, enable GPS, choose city, and choose between Fahrenheit and Celsius
The Weather Buddy App is available for $0.99 beginning Sept. 24, 2010 in the App Store.
About Crelk Wireless:
Crelk Wireless was established to build innovative applications for the wireless industry. Crelk's service offerings include SMS, WAP, and iPhone applications. Past Crelk iPhone apps include Outfit Diary, Just The Tip Calc, and Guess My Pocket Change.
###