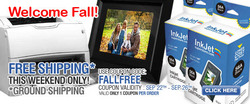 This promotion is only the beginning of an entire Fall Fest of deals and gifts to really prepare for the holidays
Bell, CA (Vocus) September 23, 2010
To prepare for the upcoming holiday season heavy printing it is important to stock up on printer ink, paper, photo paper, POS Supplies, Media and much more. Halloween, Thanksgiving, and Christmas are just around the corner it is time to print coupons, prepare holiday card list and print cards, party invites, gift tags, promotional material for such dates for business purposes and the list can go on.
Inkjetsuperstore knows the importance of being prepared and are welcoming Fall with a free ground shipping discount to all customers using Coupon Code: FALLFREE. "To really enjoy the new season and to allow our customers to get ready for the holidays with plenty of time we thought of helping them stock up on ink. People are speeding through life and when they want to look back two thirds of the year have passed in the blink of an eye. We want them to prepare for the last part of the year by getting printing supplies with plenty of time" said Mary P. Lopez Marketing Analyst from IJSS.
The printing supplies catered by Inkjetsuperstore are original and aftermarket ink cartridges; toner cartridges, copy toners, and fax supplies; postage meter supplies, photo paper; back-up media, POS supplies and cables. In addition, it brands its own environmentally friendly ink & toner cartridges.
"This promotion is only the beginning of an entire Fall Fest of deals and gifts to really prepare for the holidays" stated Mary.
About Inkjetsuperstore
InkjetSuperstore.com operates as an online retailer in North America and internationally. The company operates various retail Web sites, including inkjetsuperstore.com, inkjetsuperstore.ca, inkjetsuperstore.co.uk, and tonerzone.com. They serves its consumer customers through its retail Websites and focuses on immediate shipping, selection, price, and convenience. Visit them at http://www.inkjetsuperstore.com.
###