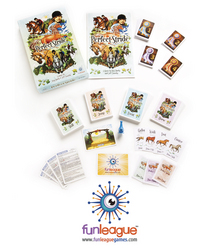 "There are many games out there that are primarily directed towards boys," said Kay Darby, President of Funleague Inc. "I decided that it was time girls and women, particularly those who love horses, had a game designed with their interests at heart."
(PRWEB) September 23, 2010
Funleague Inc. (http://www.funleaguegames.com) has announced the release of its horse card game called "Perfect Stride". It's a fun gather-round-the-table experience designed primarily for those who love horses.
Perfect Stride is a horse-themed card game that can be fun and challenging for everyone, but it will hold particularly strong appeal for girls and women. "There are many games out there that are primarily directed towards boys," said Kay Darby, President of Funleague Inc. "I decided that it was time girls and women, particularly those who love horses, had a game designed with their interests at heart."
In the game Perfect Stride, players are horse riders who gallop across the countryside toward the finish line over a random course of jumps. The players must combine their skills as riders with their horse's abilities as they attempt to clear each obstacle. Ribbons are earned along the way and at the end of the race the rider with the most ribbon points wins the game.
In addition to the engaging game play, there's a lot of visual interest here to satisfy the eyes. Almost 100 unique pieces of art are in the game; each is drawn and painted with an eye for accuracy. "I wanted Perfect Stride to be fanciful, yet still believable and somewhat accurate," said Kay Darby. "As a horse-lover myself, I always appreciated when horses were portrayed in a thoughtful and informed way."
While Perfect Stride features a theme that is typically of interest to girls, the design was mindful of others too. "It's an inclusive game that doesn't indulge in stereotypes," Darby explained. "We worked hard to keep the design open and approachable and make it inviting to everyone who would like to enjoy the game."
Horse fans in Canada and the United States will be able to order a copy of the game on the website http://www.perfectstride.net.
Funleague Inc. is an entertainment company specializing in card and board games. "Perfect Stride" is their newly-released card game filled with beautiful artwork, a theme that horse lovers enjoy and compelling game play for older kids and adults.
Contact:
Kay Darby
President, Funleague Inc.
kay(at)funleaguegames(dot)com
http://www.funleaguegames.com
###