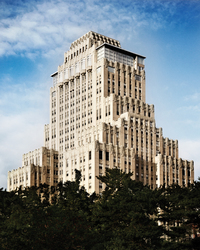 For the first time in the rich history of The Chase Park Plaza, this landmark building is the address for sophisticated homeowners
St. Louis, MO (Vocus) September 23, 2010
After four years of work and $80 million in construction costs, custom-designed luxury condominiums in the Chase Park Plaza are now complete. Named The Private Residences at the Chase Park Plaza, these 86 condominiums are deemed St. Louis' first living spaces atop a world-class hotel, with access to all of its amenities.
"For the first time in the rich history of The Chase Park Plaza, this landmark building is the address for sophisticated homeowners," said Marcia Smith Niedringhaus, general counsel and executive vice president of development for Kingsdell L.P., managing general partner of the Chase Park Plaza. "Our 'standard' finishes really set a new standard in luxury living, especially when combined with all of the amenities of the Chase Hotel."
All units feature new plumbing and electrical systems and luxurious finishes valued at approximately twice that of standard finishes, including granite and marble showers with frameless glass doors, Décor solid maple cabinets, and wood flooring. Many units contain fireplaces, coffered ceilings, and private terraces overlooking the Central West End, Forest Park, and downtown St. Louis.
Also complete is the new Garden Terrace on the third floor rooftop, with an outdoor fireplace, two large gas grills, a dog-walking area, and a community garden that is shared by all residents.
Additional amenities that residents enjoy include:

Savoy Room gathering area, with a fireplace and plasma television
Complimentary membership to Santé Fitness & Wellness, the on-site health club
24-hour valet and security
Private concierge services
Two reserved indoor parking spaces plus bicycle storage
Access to The Chase Hotel's heated swimming pool, five-screen movie theater, salon and spa, five restaurants, catering, and housekeeping services.
"These new, custom-designed condominiums are now available at prices that have never been better," said Niedringhaus. "We're offering a variety of pricing and move-in incentives, and property taxes are substantially reduced through 2016, which could save residents as much as $200,000." For more information on the history of The Chase Park Plaza, available units, pricing specials, and a full list of amenities, visit http://www.chaseresidences.com or call 314-633-1100.
Background
The Chase Park Plaza is listed in the National Register of Historic Places for its contribution to the history of St. Louis. "During the 1980s, The Chase Park Plaza was a dated apartment building that had fallen into disrepair," said Niedringhaus. "Today, the exemplary style that once made The Chase an unparalleled destination for sophisticated travelers now sets the stage for unique style in luxury living." (A timeline of The Chase's history can be found at http://www.chaseresidences.com.)
Construction of The Private Residences began in 2007. The outside of the building was left intact, but the inside was completely renovated. Floors nine through 26 contain one-, two-, three-, and four-bedroom condominiums ranging from 1,200 to 4,200 square feet. Floor 27 contains the 7,000-square-foot penthouse, the highest living space available in a St. Louis landmark. This space presents a rare opportunity for the buyer to create a magnificent custom home, with soaring ceilings, unobstructed views of Forest Park and downtown St. Louis through floor-to-ceiling windows, and Art Deco terra cotta embellishments on a private terrace.
About The Private Residences at the Chase Park Plaza
Located in St. Louis' Central West End, The Private Residences at The Chase Park Plaza are luxury condominiums that range from 1,020 square feet to nearly 7,000 square feet and list for $499,000 to $4.5 million. Owners can choose from more than 30 floor plans, including main-floor living and multi-level retreats. Residents enjoy house accounts with unique access to the hotel services, including 24-hour room service, private concierge services, in-house catering services and event support, health club memberships, and more. For more information, visit http://www.chaseresidences.com.
About The Chase Park Plaza
The Chase Park Plaza, which began as two buildings, has been a St. Louis landmark since the 1920s. Over the years, The Chase and Park Plaza welcomed discriminating travelers, royalty, entertainers, athletes, and politicians -- including every American president between the 1920s and 1980s. The Chase continues to evolve, bringing storied history and lavish accommodations together with upscale living and unparalleled amenities. Today, The Chase Park Plaza encompasses the five-screen Chase Park Plaza Cinemas, Café Eau and Eau Bistro, The Tenderloin Room, Khorassan Room, The Zodiac Room and Starlight Roof, Chasers Lounge, a beautifully renovated conference center, and Santé Fitness & Wellness, an 18,000-square-foot wellness center.
###