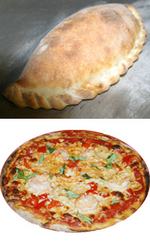 This pizza dough is like stepping back to the streets of Italy, so tasty and so easy to work with, you feel like a real pizza- maker. Try this pizza dough and the sauce, you will never use another dough in your life. - Eva Smith, Woodbury, MN
Elroy, WI (PRWEB) September 24, 2010
Read the story below about how I came to learn this amazing recipe.
"In 1977, when I was a young man living in Sweden, I helped Signor Rafael Triligetti from
Naples, Italy, to find a location for his first Swedish pizza parlor. Today, 33 years later, that pizzeria is still going strong.
"After having found this great location, Rafael told me if I was ever going to start a pizzeria of my own, I should come to him to learn his recipe – a dough recipe from Naples, Rafael's birthplace and the birthplace of traditional pizza-making.
"In 1983, I contacted Rafael, as I was going to open up my first pizza restaurant. Since then – being both an artist and someone who really enjoys making pizza – I have taken this recipe to a new level of perfection.
"I am the only one in the entire USA working with this recipe, applied the way I do it.
Unfortunately I haven't yet discovered the recipe for staying eternally young, so now the time has come for me to offer my knowledge to others. With the PizzabyBjörn Pizza Kit & Mix, quality-minded people get the opportunity to kick-start their entry into making memorable, thin-crust pizzas!"
Go to my Store and order your Start Kit – NOW http://www.PizzabyBjorn.com/pizzastore
The complete Start Kit includes 1 mix, two 14" screens, a misting bottle and full instructions. Price $23.95. Each mix makes about twelve 11" thin crusts or six 14" thin crusts. Extra mixes may be ordered at $12.95 each. A flat shipping fee of $9.50 will be added to all orders.
GUARANTEED GREAT RESULTS – BUT ONLY IF YOU USE THE SCREENS!
Every kit comes with full instructions – both how to make the dough by hand as well as if you want to use your mixer. Also included are professional hints and a European-style pizza menu. After all, there are more toppings than pepperoni and sausage….
If you need support, just pick up the phone. My number is on the website.
Björn Sjögren
Artist & Pizza-Maker
http://www.PizzabyBjorn.com
###