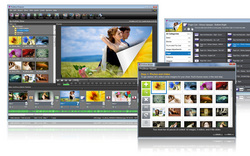 I also couldn't be more excited about our new transition effects. They open up whole new world of instant, creative power for ProShow.
Austin, TX (PRWEB) September 22, 2010
Photodex Corporation has released ProShow 4.5, the latest version of its award-winning slide show software for Windows. Version 4.5 adds automatic show creation with an all-new wizard and hundreds of new transitions and effects. In addition, ProShow Producer users can build their own transitions with the new Create Transition tool.
ProShow's new wizard intelligently mixes a user's photos, videos and music together into a dynamic slide show, instantly. Perfect for quickly creating a show with no effort or getting the creative juices flowing before fine tuning in ProShow. It comes with hundreds of built-in themes and effects for creating slide shows for any occasion. Users can adjust the energy level of their shows, customize themes and create their own themes by mixing together any of the thousands of available slide styles and transitions.
"We wanted the user experience with Version 4.5 and the new wizard to be seamless; instant show creation with the option to edit down to the millisecond if a user chooses to do so. It's the best of both worlds," said Paul Schmidt, President and Founder of Photodex Corporation. "I also couldn't be more excited about our new transition effects. They open up whole new world of instant, creative power for ProShow."
ProShow 4.5 includes hundreds of new transition effects like Page Curl, Curved Path and Camera Flash. The transitions interface has been redesigned to make browsing effects easier with categorization of different sets of transitions, like Simulations, Image Adjustments and Page effects. ProShow 4.5 also supports adding new transitions with ProShow Transition Packs. Volume 1 is available now for $19.95 and includes an additional 25, dynamic transition effects including Clouds, Smoke and 3D Drift.
ProShow Producer 4.5 adds the powerful new ability to build custom transitions. With Producer, professionals and power users can create their own custom transition effects for use in their shows. Custom built transitions can be used by the wizard and can be easily distributed to friends online.
ProShow 4.5 also comes with over 100 new, built-in slide styles for creating instant special effects in slide shows. The robust selection of new styles includes themed effects for Weddings, Portraits, Celebrations, along with popular staples like the Backdrop Zoom and Pan styles, new Caption styles and much more.
Pricing and Availability
ProShow Gold and Producer 4.5 are available immediately from http://www.photodex.com/store or by calling 1-800-377-4686. Upgrades start at $44.95 for ProShow Gold 4.5 and $89.95 for ProShow Producer 4.5, downloadable and boxed editions available. ProShow Transition Pack Volume 1 is available at $19.95 and requires ProShow 4.5.
About Photodex
For over 20 years Photodex has been a leader in the digital imaging market, forging the path for slideshow creation and transforming the way people create and share their digital memories. Our ProShow products are used by millions of people to create amazing video slideshows at home, online and on-the-go. We're serious about slideshows and dedicated to delivering exceptional products, support and service to our customers.
Photodex and ProShow are registered trademarks of Photodex Corporation.
###