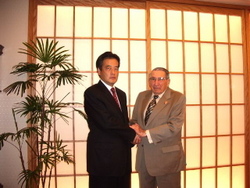 I offer my deep, heartfelt apology for the inhuman treatment you suffered.
Carlsbad, CA (PRWEB) September 24, 2010
More than 65 years after the end of World War II, Lester Tenney has finally received an apology from the Japanese government. Tenney is a resident of La Costa Glen (http://www.lacostaglen.com), the continuing care retirement community in Carlsbad, Calif.
Tenney, a Japanese prisoner of war and a survivor of the infamous Bataan Death March in the Philippines, recently led a group of surviving POWs and their relatives back to Japan as part of the Japanese/American POW Friendship Program coordinated by the U.S. State Department and the Japanese government. Now 90 years old, Tenney, his wife, Betty, and six other POWs and relatives from across the country spent eight days in Tokyo, Yokohama, Kyoto and other Japanese cities.
For the past 15 years, Tenney has waged a different type of war with Japan. This time the battle was for recognition for the horrendous pain and suffering inflicted on American POWs in one of the most notorious episodes of World War II. Tenney has been fighting for three issues: First, to receive an official apology from Japan, and second, to be included in the Peace, Friendship and Research Initiative started 15 years ago by the Japanese, which included an invitation to visit Japan at that country's expense.
According to Tenney, the Japanese reached out to America's World War II allies to be included in the friendship program, including the Netherlands, Australia, New Zealand, Scotland and England, but had never offered it to American POWs. So Tenney launched a relentless campaign for equal treatment.
A little more than a year ago, Tenney met with Japanese Ambassador Ichiro Fujisaki in Washington, D.C., to air his concerns and ask for recognition for American POWs. The invitation to travel to Japan to receive an official apology finally came in November 2009. But by then, Tenney had been diagnosed with a faulty heart valve and needed an operation.
After successful surgery in May, the trip to Japan was re-scheduled for this month. Tenney and Betty, along with the other POWs and relatives, departed for Japan on Sept. 11, Patriots' Day. The delegation met with Foreign Minister Katsuya Okada, who told the group, "I offer my deep, heartfelt apology for the inhuman treatment you suffered."
So far, Tenney has reached two of his three goals. The third issue remains unresolved. He and the other American POWs have yet to receive an apology from the Japanese companies who used and abused them during the war.
According to Tenney, "We were bought by these companies to work in their mines, factories and on the docks without adequate food, medical care or payment. The companies allowed their workers to beat us any time we didn't work hard enough, bow low enough to them, or if the United States won a sea or land battle. This is the last request we have and the companies have refused to respond in any manner."
The Tenneys, longtime residents of La Costa Glen, are home again and actively pursuing their many interests at the continuing care retirement community. One of their biggest joys is working on La Costa Glen's Care Packages From Home program, which the Tenneys helped launch three years ago. Residents purchase everyday food and clothing items ranging from warm gloves and heavy socks to microwave popcorn and canned soup, then pack and ship hundreds of care packages year to the troops in Iraq and Afghanistan each year. To date, the all-volunteer group has shipped more than 7,500 boxes to troops overseas.
"I never received any packages from home the entire time I was held prisoner," Tenney says. "We really thought people had forgotten about us, and I don't want that to happen to our young people who are serving right now. It's not easy to pack these boxes when you're 80 or 90 years old. But we know how excited our young people get when they receive them, so we'll keep at it for as long as necessary."
For more information on Care Packages From Home, visit http://www.carepackagesfromhome.org.
# # #