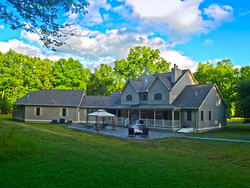 We see your signs everywhere!
Kingston, NY (PRWEB) September 23, 2010
After many successful years in the Real Estate business, John Murphy decided to start his own firm last year. The result is Murphy Realty Group, which has become one of the fastest growing real estate companies in Ulster County.
The company's distinctive green signs can be seen all over Ulster County, with people saying "We see your signs everywhere!"
"I no longer wanted to run someone else's business and wanted full control and the ability to add my personal touch with emphasis on good customer service," Murphy said.
While the recession has hit the real estate market particularly hard and "made our jobs as real estate agents more challenging," Murphy said his company went from a new firm to being ranked # 10 within the Ulster County MLS with over $10 Million in sales the first nine months it was open in 2009. He expects $20 - $25 Million in sales in 2010.
"We are the fastest growing Real Estate Firm in Ulster County," Murphy said. "Our success has been attributed to the hard work of everyone associated with the company coupled with our excellent marketing program where agents and staff use their expertise and experience and combine them with bright new ideas and concepts to keep on top of a challenging market."
The firm, which has a staff of 10 people, and is open 7 days a week and offers a wide range of marketing tools to attract buyers from outside the Ulster County.
http://www.MurphyRealtyGrp.com was the company's first website, establishing the brand and targets the local market. The website is linked into, and syndicates to all the top real estate websites, catering to potential buyers, supplying a constantly updated feed of "Featured Listings", which showcases the firm's own listings, seasonal and year round rentals, and offers buyers the advantage of "saving favorite listings", as well as getting automatic email notification of any new properties that hit the market, or of any price changes to properties that meet the buyers criteria.
UlsterCountyLiving.com is another website offered by Murphy Realty Group. This website caters to the "out of town" buyers, offering a complete and extensive area guide, which includes local attractions, bed and breakfasts, restaurants, local school reports and much more. Along with the comprehensive area guide, the website offers an Ulster County Real Estate Blog, stay on top of local happenings with the #1 real estate blog in Ulster County and the surrounding Hudson Valley area. The website also features EVERY MLS Listing in Ulster County, its inventory of listings is updated several times a day ensuring that you get the freshest, most up-to-date listings as they come on the market.
Murphy, who earned a bachelor's degree from Wagner College in economics and marketing, said his company also employs television and radio spots to draw attention to the firm, as well as colorful local newspaper ads.
"But most importantly, the agents associated with Murphy Realty Group are a select group of hardworking, full time broker-associates and salespeople who are ambitious and devoted to their clients' needs," Murphy said. "They combine good customer service and ethical standards together with their expertise to get the job done."
While the marketing certainly helped, Murphy said that most of his business has so far come from personal and previous business referrals.
"Word-of-mouth brought us much of our business during our first year," he said. "We know we are making our customers and clients happy when they not only thank us for our assistance, but when they refer our name out to others who have real estate needs.
"Much of our first year was based on referrals and that says a lot about our fine agents and their experience." Murphy said that a lot of the buzz about his company in the first year was on how fast it grew. "They notice our signs popping up everywhere in Ulster County, all over the City and the surrounding countryside," he said. "They comment on our advertising being attractive and eye catching and our staff being friendly and attentive."
Although the firm has a strong local following, Murphy Realty Group has established itself online, catering to buyers from outside the area, specifically from the NYC area for the second home market.
###