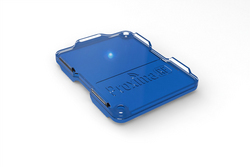 "The Proxima RF mobile sensing product suite will extend our product line by offering our clients leading edge technology to protect food safety."
Cheyenne, WY (PRWEB) September 23, 2010
ProximaRF Technology Corporation announced today that it has formed a distribution agreement with Meridius Inc. of Henderson. NV. Meridius will make the Proxima RF line of passive energy harvesting temperature sensors and dataloggers available to it customers in the food and cold chain industry.
Proxima RF's combination of wireless sensing technology with HF radio frequency identification (RFID) delivers affordable, versatile and easy to implement cold chain, industrial and pharmaceutical passive sensing and data logging solutions. The passive sensors harvest energy from the high frequency RF field and require no battery. As a result, the temperature sensors can be embedded in cold chain containers and boxes to be read with a handheld device operating the Meridius mobile ProSAFE software. By adding a battery, the sensor becomes a data logger for those applications that require continual temperature data points.
"Meridius provides mobile and server based safety monitoring software to major restaurant chains, food distributors and manufacturers. Using our integrated mobile forms for safety and inspection helps our clients improve quality, minimize risks and save hundreds of thousands of dollars per year," said Mike Whitmire, Vice President of Meridius. He went on to say, "The Proxima RF mobile sensing product suite will extend our product line by offering our clients leading edge technology to protect food safety."
Terry Rachwalski, Vice-President of Business Development for Proxima RF replied, "Meridius is highly experienced in safety and risk management. We look forward to working with such a knowledgeable systems integrator, knowing that our products will be represented and deployed with the highest standards." Proxima RF's sensing technology leverages 13.56MHz RFID enabled sensor transponders with on-board antenna and temperature sensors. HF RFID enabled sensors are perfect for applications where the security and accuracy of proximity reading is required or where the water content from food stuffs, produce and beverages would interfere with UHF emissions. The technology reduces the need for costly real time wireless motes.
About ProximaRF
Proxima RF™ designs, develops and manufactures High-Frequency RFID readers, reader modules. Designed to read ISO15693 tags, CryptoRF ISO 14443B protocols plus HF RFID enabled Melexis 90129 sensor tags, Proxima RF readers are enabling the next generation of near-field and proximity solutions. Proxima RF enables integrators to create user-friendly proximity solutions with ready-to-ship readers, supporting software, OEM designs and sensor tag modules.
ProximaRF.com, and Proxima RF are trademarks of ProximaRF Technology Corporation in the United States, Canada and/or other countries. The names of actual companies and products mentioned herein may be the trademarks of their respective owners.
For further information, please contact
Terry Rachwalski, VP Business Development
(307) 459.1919
http://www.proximarf.com
About Meridius
Meridius Incorporated has a core belief of providing quality software solutions at an affordable price. With more than 10 years of industry expertise, our solutions integrate into existing systems without the burden of overhauling existing processes. Instead, our system combines client's processes with a streamlined, automated data collection and reporting system removing the existing paper based methods.
In today's business environment, cutting costs to improve efficiencies is the key to staying on top of the competitive markets we live in. Reducing errors, instant access to real time reporting measurements, and impromptu system adjustments are vital to increasing the bottom line. ProSAFE™ provides the complete system for collecting critical day-to-day operational safety data, provides instant reporting wherever the management team resides, and allows a business to make real time decisions to improve company quality systems.
ProSAFE ™can also take existing Risk Management programs and automate it into a clean and concise reporting system.
myprosafe.com and ProSAFE are trademarks of Meridius Incorporated in the United States. The names of actual companies and products mentioned herein may be the trademarks of their respective owners.
For further information, please contact
Mike Whitmire, VP of Business Development
(801) 550.8295
http://www.myprosafe.com
# # #