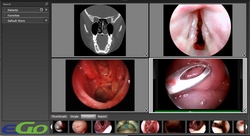 facilitates the movement of clinical data rather than patients, creating new levels of efficiency
Woodstock, GA (PRWEB) September 23, 2010
Envisionier Medical Technologies, Inc., announced today their approved vendor status and successful interoperability with VistA (Veterans Health Information Systems and Technology Architecture).
Envisionier's eGoWorks® and eGo® Manager allow for full integration of endoscopic data captured with the endogo®HD to be integrated in DICOM format to VistA Imaging accounts. eGoWorks® continues to streamline workflow and eliminate redundant tasks associated with naming, moving, storing and sharing endoscopic data in an online, secure, HIPAA environment.
According to David Guy CEO of Envisionier, "the endoscopic interoperability with VistA Imaging facilitates the movement of clinical data rather than patients, creating new levels of efficiency. As evidenced by our earlier integration with ALLMeds EMR, surgeons are increasingly mobile and desire anytime/anywhere access to longitudinal endoscopic records formerly inaccessible from VCR's or DVD's."
ABOUT Envisioner Medical Technologies:
Envisionier Medical Technologies, Inc (http://www.envisionier.com), headquartered in Woodstock GA, is first to market with palm-held endoscopic imaging technologies and networked endoscopy. More information about the endogo®HD system and eGoWorks®can be found at http://www.endogo.com.
ABOUT VistA:
The Veterans Health Information Systems and Technology Architecture (VistA) is an enterprise-wide information system built around an Electronic Health Record (EHR), used throughout the United States Department of Veterans Affairs (VA) medical system, known as the Veterans Health Administration (VHA).
# # #